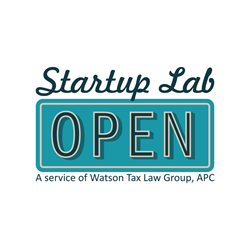 As a business owner myself, I know how daunting the thought of forming a new entity and business can sound
Santa Ana, CA (PRWEB) May 11, 2016
Across Southern California, entrepreneurs continue to be the backbone of the Southern California economy. They turn ideas into action, create jobs, foster growth and innovation, and give back to their local communities. Because of this vital role, increasing the number of new startups in Southern California is key to growing California's economy.
As a law firm that is exclusively focused on the needs of entrepreneurs, Watson Tax Law Group, APC, is dedicated to helping startups and entrepreneurs realize their dream of starting a small business. By launching the Startup Lab initiative, Watson Tax Law Group, APC, is committing to help 50 first time entrepreneurs form California entities for free.
As part of the Startup Lab initiative, Watson Tax Law Group, APC, will waive its standard legal fee and consult with eligible candidates about their choice of entity options (i.e., forming a C or S corporation, including a public benefit or social purpose corporation, a limited liability company, or a partnership) and about certain tax elections and considerations entrepreneurs should contemplate during the formation stage of their startup. Among other services provided as part of the Startup Lab initiative, Watson Tax Law Group, APC, will also prepare and file the startup's articles of incorporation (or organization) with the California Secretary of State, draft its bylaws (or operating agreement), obtain its federal tax identification number, and, if appropriate, introduce the startup to an enrolled agent or CPA and banker.
"As a business owner myself, I know how daunting the thought of forming a new entity and business can sound," says Richard C. Watson, attorney at law and founder of Watson Tax Law Group, APC. "That's why helping first time entrepreneurs to form their startup is such a priority to us. We know that if we can take part of the tax and legal work of forming the new entity off their plate, they can focus on building their business, and that they're more likely to hit the ground running from day one."
Candidates for the Startup Lab initiative must meet four eligibility requirements:

Be a first time entrepreneur;
Currently reside in Orange County, Los Angeles, San Bernardino, or San Diego county;
Be referred by a professional advisor (i.e., an enrolled agent or CPA, banker, financial planner, or wealth advisor);
Consent to an announcement or tombstone of the startup's formation.
The application for candidacy to the Startup Lab can be downloaded at Watson Tax Law Group's website. The application can be signed digitally and faxed to (888) 517-3960 or emailed to startuplab(at)watsontaxlaw(dot)com.
To learn more about the Startup Lab, visit http://www.watsontaxlaw.com/services/the-startup-lab/.
About Watson Tax Law Group, APC
Watson Tax Law Group, APC, is exclusively focused on the needs of entrepreneurs. We help small business owners to build, manage, and transition their businesses. Whether it's helping to form a startup, drafting a buy-sell agreement, assessing a company's strategic transition alternatives, or providing transaction advisory services for a variety of shareholder transactions (i.e., gifting or selling to the next generation, selling to existing shareholders or partners, to a group of employees, to an Employee Stock Ownership Plan [ESOP], or to a financial or strategic buyer), we can help.
We view planning for entrepreneurs as a team sport and work collaboratively with an owner's full advisory team. We regularly counsel small business owners on:
Formation services for startups;
Business succession planning;
Buy-sell agreements;
Transaction advisory (i.e., corporate restructurings, M&A advisory, and shareholder buyouts, redemptions, buybacks, and buyins); and
Estate and tax planning that is customized for entrepreneurs and their businesses.
More at http://www.watsontaxlaw.com/