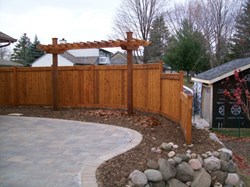 Waukesha fence company, Central Services, is proud to have had the opportunity to build their company here in Wisconsin.
Waukesha, Wisconsin (PRWEB) January 31, 2014
Waukesha fence company, Central Services Co. Inc., is excited to announce that they are celebrating their 40th year in business. As a Waukesha fence installation service that has committed themselves to installing high-quality fences that are built to last, Central Services is eager to celebrate this incredible milestone with the more than 25,000 clients and properties they have serviced over the years.
For homeowners in Waukesha, fences are an important part of their homes. Not only do their fences protect their homes from prying eyes and raise property values, fences help protect their property from the local flora and fauna. Wild animals are common in the Wisconsin "outback." In fact, not only are deer, possums and foxes common in the area, cougar sightings have been reported in Waukesha County too. No wonder so many in Waukesha have fences installed.
Gary Bohrer, owner and founder of Central Services, is proud of his company and their fences. Waukesha homes are made more secure and valuable, their families are more safe by his installations, and Gary knows it. He also knows that the most important component of his fence business' success is the quality and loyalty of his team. And that's why all of his employees are trained and and licensed in their area of expertise — so that they can install Waukesha fences that keep families and property safe and secure.
When it comes to fences, Waukesha homeowners can count on choosing from a wide variety of fencing products, accessories and custom-built options with Central Services, including:
· Ornamental iron
· Custom wood
· Chain link
· Cyclone
· Vinyl coated
· Pergolas
Waukesha fence company Central Services is proud to have had the opportunity to build their company here in Wisconsin, and they would like to thank the nearly 30,000 Wisconsin families and businesses who will have helped them reach this truly incredible milestone. For high-quality fences, Waukesha has called Central Services for 40 years, and for this, the Bohrer family thanks them.