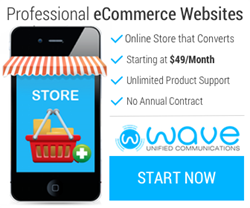 I was amazed with my new WooCommerce website! Our ads are now on page 1 on Google thanks to Wave UC! - Ruff Love Shop
Tampa, FL (PRWEB) August 14, 2015
Wave UC, a Tampa based internet marketing advertising company, announces the launch of its new Internet Marketing Advertising with WooCommerce package to provide business owners the edge they need when facing challenges to launch their eCommerce online store.
In the past month, the internet marketing advertising company (Wave UC) designed an easy to use eCommerce solution for business owners that want to sell their products online. The need for this new eCommerce Internet Marketing integration package was due to the high demand from customers that had previously attempted to design their own online store with national big name companies.
The big national corporations offer a very attractive initial do-it-yourself setup. However, business owners quickly discover there are more hidden costs and challenges to open the store. The extra plugins and widgets required to successfully launch and manage an eCommerce online store require professional knowledge to understand what is needed and how much these gizmos will cost. Several of our customers were former national corporation clients that not only spent more than what they expected, but felt unappreciated by the lack of customer service care and skilled assistance.
At Wave UC, business owners are more than a number. Wave UC, a trusted Google certified partner, is a long time advocate of building long lasting partnerships with its customers. Wave UC's Internet Marketing Advertising with WooCommerce Package has already helped our new customers to successfully launch and manage their online stores. A great example is the online dog supply store Ruff Love Shop. In the last month, Ruff Love Shop launched its online store and with the internet marketing services, it's already on the first page on Google Search Results (via Google Ads and SEO). To learn more about Wave UC services, visit Wave UC website today.