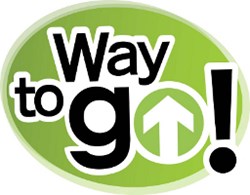 The Way to Go! Commuter Challenge is a great way to save money and reduce your impact on climate change.
Burlington, VT (PRWEB) October 11, 2013
Vermonters whose commutes are stuck in zombie mode, day after day, week after week, can fight back by taking part in the upcoming Way to Go! Commuter Challenge. From October 14 - 18, Vermont individuals and companies can compete for great prizes awarded for reducing carbon pollution by carpooling, biking, walking, or using public transportation to get to work.
"The Way to Go! Commuter Challenge is a great way to save money and reduce your impact on climate change," said Ross MacDonald, Go Vermont Program Manager at the Vermont Agency of Transportation. "Whether you carpool, take a bus, telecommute, or walk to work, there are easy ways for everyone to break out of their zombie commuting patterns."
The Challenge is designed to raise awareness of transportation options among commuters by encouraging them to travel in ways other than driving alone. Participants pledge to take the bus, bike, walk, carpool, car share, or telecommute during the week of the Challenge, and become eligible to win a variety of prizes. Prizes for this fall's Challenge include an iPad Mini, ski passes, and gear from Burton and Skirack. New for this fall, every commuter who signs up will receive 15% off bike parts and accessories from Skirack in Burlington.
This year's Challenge coincides with the kick-off for a new commuter bus route in northwestern Vermont. The Chittenden County Transit Authority's new "Jeffersonville Commuter" starts service on October 14 along the Route 15 corridor between Jeffersonville and downtown Burlington.
Participation in the Challenge has continued to grow since its inception in 2006. This spring's Challenge included 4,640 total participants, including 220 businesses and 13 schools from all around the state. For the first time, a Challenge in the fall has been added to the traditional spring Challenge, in an effort to raise year-round awareness of the many alternatives that exist for Vermont commuters.
"Some Vermonters may think there aren't any viable options to commuting by yourself, in your car, every workday of the year," said Suzanne Elowson of Vermont Energy Investment Corporation. "The Commuter Challenge is all about proving that even in a rural state like Vermont, there are all kinds of options for getting to work that will save Vermonters money and reduce their carbon footprint."
Way to Go! is supported by a wide network of 34 partner and sponsor organizations from around Vermont, including lead partner the Vermont Energy Investment Corporation (VEIC).