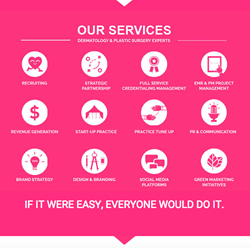 "Wendy Brown and her agency were a pleasure to work with. Within days, she found us excellent candidates for a MOHs Surgeon position. We would highly recommend her services." Norman Lockshin, MD, FAAD, Associate Professor Georgetown University
New York, NY (PRWEB) March 15, 2015
Physicians seeking to become credentialed don't have to dread the experience any longer. Formerly something that was a necessary evil, credentialing can now be handled in a way that's relatively stress and pain free, thanks to the experts in the field Wendy Brown Consulting. Wendy Brown Consulting, acclaimed for their work with dermatologists, plastic surgeons and other physicians, recently announced they are now offering new physician credentialing services, allowing clients to direct their time and energy elsewhere. Not surprisingly, this news has been met with sighs of relief in the industry.
"We handle credentialing for our clients from start to finish," commented a spokesperson from the consultant firm. "This is an area where we have a huge amount of experience, so we know exactly what the payors are looking for, how to answer their questions, and how to finish the process to our client's benefit as quickly as possible. We credential hundreds of providers every year, with the major insurance companies and make sure they are enrolled quickly so we can avoid any delays in payment."
According to the company, the credentialing services can include: CAQH Registration; Commercial Insurance Credentialing/Insurance Credentialing; Managed Care Credentialing; DEA Registering and Tracking; Individual Medicare Enrollment; and much, much more. A complete list can be found at the Wendy Brown Consulting website or inquired about from a representative.
In addition to credentialing Wendy Brown Consulting continues to offer acclaimed recruiting services, project management, full cycle marketing campaigns and other diverse services - specific to the specialties of plastic surgery, dermatology and mohs surgery.
For more information be sure to visit http://www.wendybrownnyc.com.
To get social with WB: http://www.facebook.com/wbconsults
https://www.linkedin.com/in/wbconsults
https://twitter.com/wbconsults