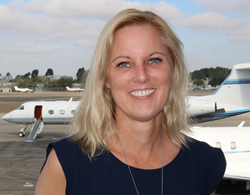 I am excited to have the opportunity to lead such an exemplary group of aviation professionals. We are committed to raising the bar with our processes, crew training and customer service.
Santa Ana, CA (PRWEB) October 19, 2016
Leading aviation services provider, West Coast Aviation Services, is pleased to announce the appointment of Laura Trenerry to the executive position of Vice President, Flight Operations. The company also welcomes back aviation veteran and newly named Director of Operations, Jerry Hansen to lead its operations team. The two newly appointed aviation professionals will bring a wealth of experience and operational knowledge further strengthening the company's commitment to providing the highest standards of aviation services.
Ms. Trenerry joined West Coast Aviation Services in 2004 and has held multiple key positions within the company including her previous position as Business Operations Manager. She maintains the Drug and Alcohol Program and administers oversight with operational audits. She was instrumental to the restructuring and developmental growth of KMR Aviation, the Ontario, CA based operator and affiliate partner of West Coast Aviation Services, serving as General Manager during its transitional stage. Her leadership style and strategic planning skills have streamlined both companies' business operations, flight operations and training processes. In her new position, Ms. Trenerry will be focused on safety, customer service, and operational efficiency as she manages the aircraft charter, fractional shares and management side of the company.
"I am excited to have the opportunity to lead such an exemplary group of aviation professionals," commented Laura Trenerry. "The operational team – everyone on the ground and in the air – works closely together to meet challenges and develop solutions to provide our clients with the highest standards in aviation services. We are committed to raising the bar with our processes, crew training and customer service. We are focused on a growth strategy aligned with our Vision of taking the West Coast Aviation Services brand from a Western Regional operator to a nationally known service provider."
A 28-year veteran in the aviation industry, Jerry Hansen returns to West Coat Aviation Services as its Director of Operations. He will be directly managing an operations team supporting numerous aircraft based in various locations while maintaining a fully compliant, safe and reliable Part 135 and Part 91 operation. He will continue to direct communications with the FAA, provide flight-line oversight, institute the company's operational plans and policies, and oversee the training of flight personnel. Mr. Hansen, along with his team – Edward Walsh (Director of Safety), Ken Stave (Chief Pilot) and Jonas Bielkevicius (Assistant Chief Pilot) – are committed to maintaining the highest level of safety standards and training while promoting a culture of compliance and safety. Mr. Hansen is a line pilot for the Challenger 604 charter fleet operated under the KMR certificate and holds ATP, CFI Gold Seal, MEI, CE550, HS125, and BE30 pilot certifications.
"We are excited to have Laura and Jerry on the team," said Gary Standel, West Coast Aviation Services' President and Founder. "We are looking forward to new growth to our operation."
Along with the changes to its operational leadership, West Coast Aviation Services is pleased to announce the addition of a new 2016 Citation M2 to its Part 135 certificate. This highly-efficient light jet provides convenience and easy access to smaller airports not available to larger jets and airliners. Based in Henderson, NV it is available for immediate charter.
About West Coast Aviation Services
West Coast Aviation Services is a full-service aviation company providing Part 135 Charter Services in turboprops, light, mid-size and heavy jets; Fractional Shares of King Air B200s and 350s; Aircraft Sales & Acquisition, Management and Consulting Services; as well as Aircraft Maintenance. In business since 1987, the company is headquartered at the John Wayne Airport in Orange County, California (KSNA) and maintains charter aircraft at various bases throughout Southern California and Nevada. Its Part 145 Repair Station located in Long Beach, CA (KLGB) is an Authorized Hawker Beechcraft Service Center and Piper Service Center, Authorized vendor for Raisbeck Engineering, and Blackhawk, and is a Dealer for Garmin, Rockwell Collins and Bendix King Avionics among others.
About KMR Aviation
Established in 1989, KMR Aviation is a full service leader in Private Aviation. They specialize in personalized charter services and customized aircraft management solutions, delivering an unparalleled flying experience to corporate leaders, entrepreneurs and private individuals all over the world. KMR operates the largest charter fleet of wide-body Challenger 604 executive jets throughout the U.S. Domestic Wi-Fi, a personal Cabin Server and no fuel surcharge are complimentary for the Challenger fleet. Through an alliance with West Coast Aviation Services, KMR Aviation has access to a wider-range of charter aircraft, further expanding service capabilities to accommodate its clients' travel needs.
Committed to safety and security, both West Coast Aviation Services and KMR Aviation are Aviation Research Group/US Gold-Rated and Wyvern Registered charter operators. The companies' combined fleet of more than 30 charter-ready aircraft offers clients a wide-range of travel solutions. Two Companies | One Experience
For any aviation service needs, contact the team at charter(at)wcas.aero or at 800.352.6153.