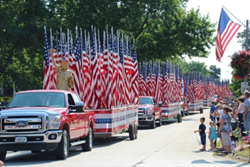 "It is one of my favorite photos that I have taken during our 4th of July celebration," states Marcie, WCCTA Office Manager. "I submitted it earlier this year and was excited to hear it was selected and that it would be the photo for the month of July."
Gowrie, IA (PRWEB) December 30, 2014
It's a tradition said to be the longest running consecutive Independence Day celebration in Iowa and the photo published in the 2015 NTCA calendar features the famous 4th of July parade that draws thousands to this small community each year.
The Gowrie, Iowa celebration originated in 1863 and has continued each year with a parade and festivities that start on July 2nd and continue through July 5th. The parade brings in over 100 entries from all over the region and an estimated 10,000 visitors will watch and join in on the other activities during the celebration.
The Webster-Calhoun Cooperative Telephone Association (WCCTA) photo was submitted by Marcie Boerner, Office Manager at WCCTA and shows a patriotic entry of hundreds of United States flags saluting veterans and the armed forces.
"It is one of my favorite photos that I have taken during our 4th of July celebration," states Marcie. "I submitted it earlier this year and was excited to hear it was selected and that it would be the photo for the month of July."
WCCTA is a member of NTCA–The Rural Broadband Association. This is the premier association representing nearly 900 independent, community-based telecommunications companies that are leading innovation in rural and small-town America. NTCA advocates on behalf of its members in the legislative and regulatory arenas, and it provides training and development; publications and industry events; and an array of employee benefit programs.
Because NTCA is a national organization, this photo will be seen by thousands across the US. Marcie goes on to say, "We have so much to offer in the communities that WCCTA serves and this is an excellent opportunity to let others know more about our region."
Webster-Calhoun Cooperative Telephone Association is located at 1106 Beek Street, Gowrie, IA 50543. It has a Fiber driven network and provides landline telephone, Internet and digital television service to the Iowa communities of Gowrie, Pilot Mound, Vincent, Thor, Churdan, Knierim, Somers, Barnum, Duncombe, Farnhamville, Badger, Clare, Moorland, Boxholm, Lanyon and Paton. Additional information is available by calling 515-352-3151 or visiting http://www.wccta.net.