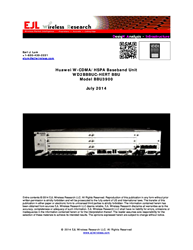 "The BBU3900 NodeB allows operators to enable up to 1024 DL CEs while supporting dual mode GSM/WCDMA services."
Salem, NH (PRWEB) July 31, 2014
EJL Wireless Research is announcing a new report within its proprietary DNA-I series, a Huawei Technologies W-CDMA/HSPA BBU3900 NodeB.
"This is our first opportunity to look into the BBU3900 digital baseband unit for Huawei Technologies' W-CDMA/HSPA NodeB family. The BBU3900 forms the core of the BTS3900/390A/3900L, DBS3900 and IDBS3900 NodeB platform for Huawei Technologies and allows mobile operators a seamless migration path for upgrading to LTE eNodeBs as well as a multi-mode BBU3900 configuration supporting GSM, CDMA, W-CDMA/HSPA, FDD LTE and TDD LTE," said founder and President, Earl Lum.
"The single mode W-CDMA/HSPA BBU3900 NodeB unit supports a maximum capacity of 384 HSDPA UEs (user equipment) as well as 768 DL CEs (downlink channel elements) for W-CDMA/HSPA services using a WBBP (W-CDMA Baseband Processing) unit. It is also capable of supporting up to a maximum capacity of 768 HSDPA UEs (user equipment) as well as 1,024 DL CEs (downlink channel elements) for W-CDMA/HSPA services using a multi-mode UBBP (Universal Baseband Processing) unit. The BBU3900 enabled NodeB is compliant with 3GPP R9 protocols and also forms the core part of the IDBS3900 in-building LampSite solution. We continue to be excited in having the opportunity to showcase the latest generation digital baseband units, remote radio units, RF transceiver modules, BTS antennas, femtocells, and base stations from major wireless equipment OEMs as part of our DNA-I program," says Lum.
EJL Wireless Research continues to lead the wireless market research segment with innovative and cutting edge research such as its DNA-I series of products.
The following semiconductor & passive component suppliers are included in this report: Analog Devices, Coilcraft, Integrated Device Technology, Fairchild Semiconductor, FCI, Foxconn, HiSilicon Technologies, Micrel, NXP Semiconductors, Panasonic, STMicroelectronics, TDK-EPCOS, Texas Instruments, and Vishay Semiconductors.
The report is currently available for purchase and information can be downloaded at http://www.ejlwireless.com.
About EJL Wireless Research
EJL Wireless Research provides proprietary, accurate and cutting-edge market analysis and consulting services on the wireless technology ecosystem and defense and aerospace industries. The firm's wireless infrastructure research division focuses on all vertical elements of the wireless ecosystem including mobile subscribers, mobile operators, mobile handsets, mobile infrastructure and mobile content. In addition, the firm provides analysis across horizontal technology suppliers including RF semiconductor materials, RF semiconductor/components, subsystems and OEMs. Similarly, the defense and aerospace division focuses it efforts on the ecosystem supporting UAV and airborne platforms and subsystems. Our goal is to provide our clients with mission critical market analysis and information.
EJL Wireless Research believes it has a corporate responsibility, both local and international, in giving back to the community. Please visit our website for more information about the charitable organizations it supports at: http://www.ejlwireless.com/corporate_responsibility.html.
EJL Wireless Research is managed by Earl Lum. Mr. Lum has 20 years of experience within the wireless industry including 8 years as an Equity Research Analyst on Wall Street cover the global wireless industry. The company is headquartered in Salem, NH. For more information about EJL Wireless Research, please visit the company's websites at http://www.ejlwireless.com or http://www.ejldefense.com.