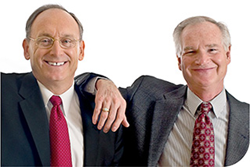 "In order for your people to be better, you need to first learn how to be better."- Rick Conlow, CEO and Co-Founder, WCW Partners Inc.
(PRWEB) June 18, 2014
Rick Conlow and Doug Watsabaugh, Co-founders of global management consulting firm WCW Partners, Inc. have launched the Superstar Leadership Monthly Video Training Series to help leaders revolutionize performance. Anyone in a leadership, management, training, or supervisory position can benefit from the series by learning how to improve team results, earn positive recognition, achieve work satisfaction, and advance their careers. Each piece of the series is focused on providing practical, sustainable, tried-and-true leadership strategies from industry experts with decades of experience.
This Superstar Leadership training series features a myriad of resources to help participants learn and apply the concepts at their own pace. The first video training session has been designed to help viewers evaluate their leadership effectiveness, learn the difference between good and bad managers, and understand why half of managers fail and how to avoid the same fate. In addition, each participant will learn how to execute the 9 strategies of Superstar leaders, pioneered by Conlow and Watsabaugh:
1. Effective planning
2. Coaching others to excellence
3. Training skills
4. Improving employee engagement
5. Proactive communication
6. Managing improved performance
7. Recruiting top talent
8. Flexible leadership
9. Continual improvement tactics
Monthly subscribers will also receive the Superstar Leadership Model Book, Superstar Leadership Assessment, Superstar Leadership Workbook, and access to 12 monthly leadership training videos (sent monthly). Conlow and Watsabaugh will also offer their wisdom, support, coaching, and inspiration to all participants.
The Superstar Leadership Monthly Video Training Series provides the information and insight that all professionals can use to achieve exceptional leadership results and to earn warranted recognition.
"In order for your people to be better, you need to first learn how to be better," said Rick Conlow, CEO and Co-Founder of WCW Partners. "Doug and I have specifically developed this monthly training series to address that need – for managers to improve themselves and learn critical strategies so that they can have a positive organizational impact."
In conjunction with the monthly series, WCW Partners will be hosting a Live Online Event on June 25th and 26th from 1:00-2:00pm EST (10:00-11:00am PST). Dubbed "How to be a Superstar Leader," both free training sessions will focus on the skills required to inspire others and lead a high-performing team.
For more information or to register for the June 25th session, please visit bit.ly/WCW_LiveOnlineEvent_625.
To register for the June 26th session, please visit bit.ly/WCW_LiveOnlineEvent_626.
About WCW Partners
Co-Founders Rick Conlow/CEO and Doug Watsabaugh/COO of WCW Partners have more than 50 years of combined business, training and leadership experience. Their company partners with organizations to increase sales and customer retention, while simultaneously improving employee loyalty, engagement, and productivity. Clients include 3M, Meijer, Rite Aid, Canadian Linen, AmeriPride, Honeywell, Entergy, Nash Finch, Northern Power, Pepsi and others.
For more information, contact 888-313-0514 or visit http://www.wcwpartners.com.