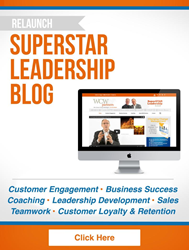 "Leadership is a high contact sport." Rick Conlow
Minneapolis/St. Paul, Minnesota (PRWEB) January 23, 2014
The Co-Founders of WCW Partners, a global management consulting and training firm, today announced the launch of their brand new Superstar Leadership Blog. Over the years, Rick Conlow and Doug Watsabaugh have delivered leadership coaching to some of the largest and most recognized companies in the world, and have developed the blog to be a valuable industry resource.
The Superstar Leadership Blog is a treasure trove of success tips, techniques and tools to increase employee engagement, develop leadership effectiveness, advance the customer experience, and improve sales performance. Managers at all levels stand to benefit from the content shared through the blog. Subscribers will receive regular updates and gain access to a wealth of timely and actionable information.
In addition, the blog pulls from the insights of Conlow and Watsabaugh's fifteen business books, including Superstar Leadership, Superstar Customer Service, Superstar Sales and How to Be a Superstar Employee. The foundation for all of the content produced by WCW Partners is the founders' extensive experience and history of success. They have helped companies improve sales over 122%, increase companies' customer experience 14 points and increase leadership effectiveness on engagement surveys over 12 points. To date, over 250,000 managers worldwide have gained personally and professionally from their coaching, mentoring and training.
Some of the many topics the blog focuses on include:

Conducting high-powered sales training
Increasing employee engagement
Motivating poor performing employees
Planning and executing effectively
Developing a high performance team
Managing confrontation in the workplace
For leadership input and advice that's practical in a variety of applications, readers can subscribe to the Superstar Leadership Blog at http://www.blog.wcwpartners.com.
About WCW Partners, Inc.
Co-Founders Rick Conlow/CEO and Doug Watsabaugh/COO of WCW Partners have more than 50 years of combined business consulting, and leadership training experience. Their company partners with organizations to increase sales and customer retention, while simultaneously improving employee loyalty, engagement, and productivity. Clients include 3M, Meijer, Rite Aid, Canadian Linen, AmeriPride, Honeywell, Entergy, Nash Finch, Northern Power, Pepsi, Target, Widex and others. For more information please visit the company website at http://www.wcwpartners.com.