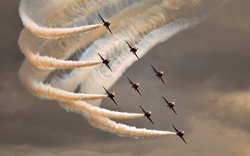 Minneapolis/St. Paul, MN (PRWEB) May 22, 2014
WCW Partners, Inc., today announced the dates for its upcoming leadership webinars. Set to air on May 28th and 29th at 12:00pm Central, the webinars will focus on practical leadership methods effective in promoting employee engagement.
Founders Rick Conlow and Doug Watsabaugh boast decades of experience in business, leadership, and training. They have developed a myriad of resources for their wide range of clients, helping them to increase sales and customer retention while also boosting employee loyalty, engagement, and productivity. The upcoming webinars will zero in on the science of employee motivation, performance, and overall engagement.
Employee engagement is a big focus for companies worldwide; each has its own approach and implements action plans, but employee satisfaction continues to diminish over time. WCW Partners has come to realize that strategy related to this area is all too often about numbers rather than people, when in actuality it needs to be personal and emotional in order to be effective. Leaders within the company need to truly care about the success of their employees, who are – in reality – the company's greatest asset and resource.
With this in mind, WCW's upcoming webinars will reveal 4 concrete leadership skills that managers can use to drive employee engagement. While change may be uncomfortable, it is necessary in order for progress to be made and employee satisfaction to improve. CEO Rick Conlow will reveal key insights developed through years of providing hands-on training and education to some of the world's most well-recognized companies.
The registration form for the webinars is available here: http://bit.ly/RUs1sW. Space is limited and available on a first-come first-serve basis.
About WCW Partners Inc.
Co-Founders Rick Conlow/CEO and Doug Watsabaugh/COO of WCW Partners have more than 50 years of combined business, training and leadership experience. In addition, the duo shares a wide range of performance insights in their Superstar Leadership blog, which provides over 300 value-added articles and videos to bolster formal company training offered by WCW Partners. Their goal is to serve as a destination for leaders, managers, coaches, and trainers looking to boost performance and achieve results. Clients include 3M, Meijer, Rite Aid, Canadian Linen, AmeriPride, Honeywell, Entergy, Nash Finch, Northern Power, Pepsi, Widex, Target and more.
For more information visit the company website at http://www.wcwpartners.com.