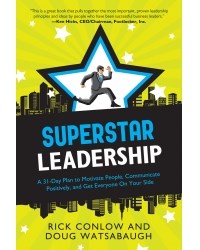 If you want your team to be better, you have to be a better leader.
Minneapolis/St. Paul, Minnesota (PRWEB) October 14, 2013
Rick Conlow and Doug Watsabaugh Co-founders of WCW Partners, Inc. a global management consulting firm, launch the Superstar Leadership Monthly Video Training Series. Rick and Doug have consulted with some of the biggest companies in the world and have helped nearly 250,000 managers achieve more leadership success.
Leaders, managers, trainers, and supervisors who desire career advancement, better team results, more recognition or greater personal work satisfaction will benefit from this leadership training series. They can become their best by absorbing and applying the strategies that are shared with subscribers each month. Hundreds of global clients and customers have benefited from these sustainable, proven-to-work leadership strategies.
This leadership training series is rich with resources that are saturated with substance and significance. Participants will study and apply the concepts at their own time and speed. They will learn how to execute with excellence the 9 strategies of Superstar leaders: planning effectively, coaching others toward excellence, training skills that work, creating employee engagement, communicating proactively, managing improved performance, hiring the best people, leading with flexibility, and establishing continuous improvement.
Monthly subscribers will receive these power packed resources to cement their success. This includes Rick and Doug's latest book, Superstar Leadership: A 31 Day Plan to Motivate People, Communicate Positively and Get Everyone on Your Side, a Superstar Leadership Assessment, The SuperSTAR Leadership Workbook, 12 monthly supercharged leadership training videos, 3 leadership reinforcement DVDs and direct, unprecedented access to the support, experience and wisdom of the program's founders.
The Superstar Leadership Monthly Video Training Series provides the information and insight that all professionals can use to achieve exceptional leadership results and to earn warranted recognition. The only thing standing between the best and the worst leaders is this monthly training series.
Check out the introduction video for additional details about this career changing leadership training series: The Superstar Leadership Monthly Video Training Series. There is a special presentation on why superstar leadership, 10 reasons employees hate their boss, and information on unique product bonuses.
Co-Founders Rick Conlow/CEO and Doug Watsabaugh/COO of WCW Partners have more than 50 years of combined business, training and leadership experience. Their company partners with organizations to increase sales and customer retention, while simultaneously improving employee loyalty, engagement, and productivity. Clients include 3M, Meijer, Rite Aid, Canadian Linen, AmeriPride, Honeywell, Entergy, Nash Finch, Northern Power, Pepsi and others. For more information, contact 888-313-0514.