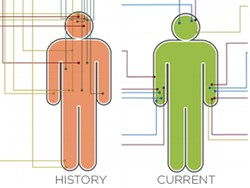 A gap between consumer needs and current market options for wearable technology exists: current wearable products are falling short of expectations.
Overland Park, Kan. (PRWEB) December 19, 2013
There's a lot of buzz about today's wearable technology trend, but how much data is actually behind what people will wear and why they want it?
Dimensional Innovations recently conducted a survey about consumer preferences in the wearable technology trend. Paired with an analysis of the tech trend's history and a review of current wearable technology options on the market, the firm created an infographic that gives a picture of the how the industry developed and where it's headed.
Results show that while 75 percent of respondents are willing to try wearable technology, most current products fail to resonate with consumers, in both design and functionality.
The wearable technology trends infographic also reveals:

A gap between consumer needs and current market options for wearable technology exists: current wearable products are falling short of expectations.
Most consumers (75 percent) are open to having a wearable device learn from their behavior.
Consumers picked the hand as the best place for wearable technology and said the wrist was the worst. Of the 16 wearable technologies featured, 63% are worn on the wrist.
Cushion-cut corner treatments are most popular with surveyed consumers (50 percent of respondents preferred it). However, square corners dominate the market (41 percent of current options had square edges).
Wearable technology trends today mimics the patterns of the industry's 53-year history: the majority of devices are located on the torso and/or arms and most focus on task management and entertainment.
Product developers need to know:
2013 market trends still aren't meeting consumer needs: Gaps and growth areas clearly exist for wearable technology: the market is ripe with potential.
While a majority of consumers are eager to try a wearable device, widespread adoption is still low: Many people are willing and perhaps ready to try a wearable device, but most don't know anything about the market, including what product would fit best with their lifestyles.
The fascinating (and sometimes humorous) history of wearable technology spans more than 50 years: Is wearable technology really a new trend, or are advances in computer technology simply allowing us to finally refine a 50-year-old idea? The market analysis suggests the latter.
This is the next direction where our communication will evolve: Just as smartphones have shifted our gaze from the desktop screen to our hands, so too should we expect wearable tech to alter the way we interact with technology. As more and more of us lead constantly connected lives, it's inevitable that our possessions will join us.
ABOUT DIMENSIONAL INNOVATIONS
Dimensional Innovations (DI) is in the business of building ideas, fueled by the art and science of creating experiences. As an experiential design, fabrication and innovation firm, we help companies and brands connect with, inspire and engage their audiences.
Together, we are designers, makers and innovators of world-class experiences, places and products. We make you look remarkably good.
# # #