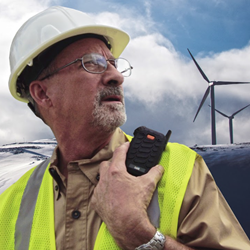 CHRISTCHURCH, New Zealand (PRWEB) September 29, 2021
Tait Communications, a leading provider of critical communications solutions for the public safety, utilities and transportation industries, announced today the TAIT AXIOM® Wearable, a compact, broadband-connected device that allows mobile teams to work beyond the radio network edge and in challenging areas like building interiors, automatically switching communications bearers.
"Emergency response can send workers into areas where radio communications are suddenly not available, and critical conversations between the dispatcher and team members stop," said Yoram Benit, Tait Communications Chief Executive Officer. "The Wearable provides an alternate communication path through broadband networks to ensure the conversations keep going."
The lightweight, standalone device mounts on a uniform like a radio speaker microphone and accesses TAIT AXIOM® cloud-based Push-to-Talk services using broadband networks, including public/private LTE, WiFi and Ethernet. Heads-up operational controls, like a rotary dial and large dedicated buttons for PTT and distress calls, keeps eyes looking safely forward. Interoperability with Tait LMR networks allows companies to invite broadband-connected workers outside the LMR network into radio conversations regardless of their location, and without the expense of a dedicated radio or network expansion.
"Now, support personnel can become part of the larger conversation, helping front-line workers be safer and more productive by communicating one-on-one or through talkgroups, without the added step of sharing information through a dispatcher," said Benit.
When attached to a Tait TP9000 Series portable radio via cord or Bluetooth, the Wearable performs the function of a powerful speaker microphone, delivering exceptional audio via a 3W front-facing speaker and three active noise cancellation microphones. In the event the portable radio loses connection with the LMR network, communications automatically switch to the Wearables broadband connection, providing a path for voice conversations as well as emergency alerting and location information.
Tait announced and began demonstrating the TAIT AXIOM Wearable at the 45th Annual International Wireless Communications Expo (IWCE) show in Las Vegas. The device will begin shipping in December of this year.