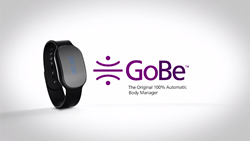 Our technology is the first of its kind...
San Francisco, CA (PRWEB) March 12, 2014
Healbe™ Corporation unveiled its flagship product, GoBe, The Original 100% Automatic Body Manager™. GoBe's revolutionary technology allows users to automatically measure calories consumed and burned during any activity, along with hydration, sleep and stress—with no logging or estimates. Healbe™ introduced the product on the crowdfunding platform Indiegogo March 5th, where the campaign reached over 300% of its $100,000 goal in the first week. The Indiegogo campaign can be found at http://igg.me/at/GoBe/.
According to Healbe™ founder and CEO Artem Shipitsyn, "We live in an age of information, and yet 98% of diets fail. Wearable technologies are trying to solve this problem, but I found that none had succeeded in making it easy for people to know whether they're getting the right amount of food, water, exercise and sleep."
GoBe uses Healbe FLOW™ Technology, the patented innovation that combines information from three sensors with an advanced algorithm to calculate calorie intake by reading the amount of glucose in your cells, through your skin. It also provides continuous heart rate monitoring, and accurately tracks calorie burn and metabolic rate during any activity.
GoBe communicates via Bluetooth, and users can view their data on the Healbe™ web portal, and on their smartphones using an iOS or Android-compatible app.
According to a report by Transparency Market Research, the wearable technology market is projected to grow to $5.8 billion in sales by 2018. Crowdfunded transactions totaled more that $5 billion in 2013, as reported by equitynet.com.
Healbe™ Managing Director George Mikaberydze says, "Indiegogo was a natural fit for GoBe. Our technology is the first of its kind, and we wanted to get as many people involved as possible, as early as possible."
Healbe™ has developed a functional prototype and a working smartphone app, and all funds raised through Indiegogo will go towards manufacturing. The campaign will run through April 15, 2014, and the first GoBe devices are expected to ship as soon as early June 2014.
About Healbe™ Corporation
Healbe™ Corporation is the pioneer of Healbe GoBe™, The Original 100% Automatic Body Manager™, and Healbe FLOW™ Technology, brands dedicated to making people's lives happier healthier, and easier. Healbe™ is headquartered in San Francisco, CA. For more information: http://www.healbe.com.