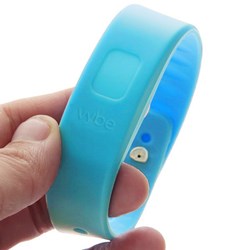 Being constantly connected to my phone is a must, so I decided to give people a non-intrusive way to be alerted of messages and calls. That is what Vybe does.
Los Angeles, CA (PRWEB) November 07, 2013
Vybe, a new smartphone bracelet, launched a crowdfunding campaign on October 29th in hopes of raising the funds necessary to cover manufacturing costs. From movies to technology to food, the crowdfunding world has been home to a wide variety of different projects. However, the campaigns that have always gained the most attention have been new tech products and, after reaching its $43,000 goal with 21 days left, Vybe founder Chris Stoikos is excited by the success of his new notification bracelet.
Vybe is a bluetooth bracelet that alerts the user of incoming calls and messages with vibrating notifications. Compatible with the iPhone 4S, iPhone 5, iPhone 5S, iPhone 5C and all Android models that support Bluetooth 4.0, the Vybe bracelet vibrates to notify the wearer of an incoming message or phone call when their phone is out of sight or earshot. Vybe will also begin to rapidly vibrate to alert the wearer that they are out of Vybe's fifty-foot range. This feature helps prevent the user from misplacing or losing their device. Lasting up to 72 hours, Vybe's lithium-ion battery only needs three hours to fully recharge, and will never require replacing, allowing owners to always remain connected to their phones.
While other tech accessories, such as smart watches and other wearable bracelets, are priced anywhere from $100 to $400, and are deemed too flashy or complex for everyday wear, Vybe is affordable and simple. Those interested can purchase this bluetooth bracelet during its crowdfunding campaign for only $39. To begin using Vybe, simply pair the bluetooth device to the phone, tap the Vybe bracelet and it will sync effortlessly. Vybe also allows users to choose the look and design of their bracelet. Available in all the latest iPhone 5C colors, owners have the freedom to customize their Vybe band and clip to suit their style best.
"Being constantly connected to my phone is a must, so I decided to give people a non-intrusive way to be alerted of messages and calls. That is what Vybe does," says founder Chris Stoikos. "The bluetooth bracelet notifies the owner by vibrating, hence the name, making it better than annoying flashes or sounds. Plus, we know how important it is to look good. If you're going to wear something, it has to be comfortable and stylish. That's why we let you customize and design your very own Vybe to represent you."
Vybe launched its 30 day crowdfunding campaign with a goal of $43,000 on October 29th. After less than a week, the campaign reached its goal and has now raised $64,888 total, which is 151% of its goal. For the remaining 21 days, backers will be able to pledge to the campaign to be guaranteed to receive their very own Vybe bluetooth bracelet. In return for supporting the campaign, Vybe is offering the following Options, or rewards. The first Option is $3 for the band extender, then $8 for an extra bracelet and $39 for the Vybe wristband and chip. Unlike similar campaigns, Stoikos, the company behind Vybe, is 100% guaranteeing delivery by February 28th, 2014. Vybe also comes with a one year warranty against any manufacturer defects, bringing peace of mind to those who support the project on Crowdhoster.
Head to http://bit.ly/WearVybe to back the Vybe bluetooth bracelet today. Also connect and share the news about Vybe on Facebook and Twitter.
About Vybe
Vybe is a new stylish wearable tech accessory from creator Chris Stoikos. Using bluetooth technology, the Vybe customizable bracelet syncs to an iPhone or Android device and alerts the owner of incoming messages, texts and distance from phone via vibrations. While similar devices use light or sound notifications, Vybe is non-intrusive yet fully functional. To learn more about the Vybe bluetooth bracelet, visit http://wearvybe.com/ and connect on Facebook and Twitter @WearVybe.