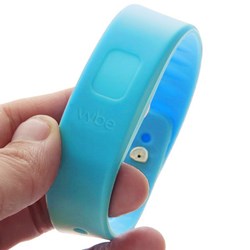 No matter if you're out on a date, hanging out at the beach, exercising at the gym or working at the office, Vybe allows you to stay connected no matter where you are, and now, even in the water
Los Angeles, CA (PRWEB) November 22, 2013
As the new Vybe bluetooth bracelet moves into its final week of crowdfunding, the popular bracelet hopes to continue its rising success. Raising almost double of its initial $43,000 funding goal, Vybe has caught the wearable tech and crowdfunding worlds by storm. Now, by adding a new waterproof feature, Vybe founder Chris Stoikos aims to keep people connected to their phones at all times with his stylish bluetooth alert bracelet.
The Vybe bluetooth bracelet offers owners a variety of features. True to its name, the wearable tech accessory vibrates to alert users of incoming messages, calls and when they've left their phone behind. Compatible with iPhone 4S, iPhone 5/5S/5C and Android devices with bluetooth 4.0, Vybe uses minimal battery to keep owners connected to their phones for up to 72 hours. To recharge Vybe's lithium-ion battery, owners simply need to plug it in for 3 hours for a full charge.
Recently Vybe added another feature to the bracelet, making it waterproof. This new attribute truly allows owners to wear their Vybe, and stay connected wherever they are during whatever they are doing. Whether they are swimming, surfing, kayaking, wakeboarding or any other water activity, Vybe will alert users of incoming messages and calls. The push to make Vybe waterproof came from many fans of the bluetooth bracelet commenting about the ability to use Vybe in the water.
"I can't tell you how many times I've missed an important phone call while out in the water, or left my phone someplace after surfing. After all the comments from our backers asking to make Vybe waterproof, I developed the bracelet to fix that problem for myself and everyone else," says founder Chris Stoikos. "No matter if you're out on a date, hanging out at the beach, exercising at the gym or working at the office, Vybe allows you to stay connected no matter where you are, and now, even in the water."
With less than one week still left in its crowdfunding campaign, Vybe has already reached 178% of its funding goal. Over 1,500 fans of wearable tech have backed the project, helping to raise $77,483 in total. Since the project has reached its goal, Stoikos has promised that backers are guaranteed to receive their smart alert bracelet by February 2014. For those still hoping to purchase their bluetooth bracelet, they can still pledge $39 to the project to receive Vybe in the color of their choice.
Head to http://bit.ly/WearVybe to pre-order the Vybe bluetooth bracelet today. The crowdfunding campaign ends on November 27th, so be sure to back the project before then. Also connect and share the news about Vybe on on Facebook and Twitter @WearVybe.
About Vybe
Vybe is a new stylish wearable tech accessory from creator Chris Stoikos. Using bluetooth technology, the Vybe customizable bracelet syncs to an iPhone or Android device and alerts the owner of incoming messages, texts and distance from phone via vibrations. While similar devices use light or sound notifications, Vybe is non-intrusive yet fully functional. To learn more about the Vybe bluetooth bracelet, visit http://wearvybe.com/ and connect on Facebook and Twitter @WearVybe.