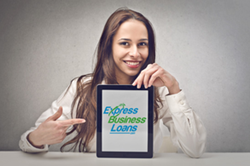 "With a business loan approval with only one bank statement we have cut the [small business] funding process to 24-48 hours."
Amityville, NY 11701 (PRWEB) March 01, 2014
In testimony this week before the Senate Banking, Housing and Urban Affairs Committee, US Federal Reserve Board Chairwoman Janet Yellen correlated softer spending in the economy with the harsh weather that has stricken much of the nation early this year.
With retail sales down for the quarter small business owners may find their cash flow adversely affected. The Express Business Loan program can help these small business owners. Small business owners can complete their business loan application entirely online in under ten minutes and with only one bank statement. "Large banks have removed themselves from funding main street small business. This program has been very popular with small business owners nationwide. We have filled a gap in an undeserved market. With a business loan approval with only one bank statement we have cut the funding process to 24-48 hours," says Michael Martin, VP of Business Development.
The most recent Federal Reserve report showed an increase in demand for small business loans. The most recent survey had 29% of small business owners considering applying for capital. With tax season approaching small businesses owners should weigh their working capital needs carefully and make sure to apply while their bank statements are strongest.
About ExpressBusinessLoans.com
New York based ExpressBusinessLoans.com is a provider of small business financing to small and mid-sized businesses across the United States. Our programs are individualized to the capital needs of each business. Since 2007 ExpressBusinessLoans.com has funded millions of dollars to small business nationwide. Our programs have been featured in Entrepreneur Magazine and TheStreet.Com. To learn more about our small business financing programs visit ExpressBusinessLoans.com or call (855)400-3863.