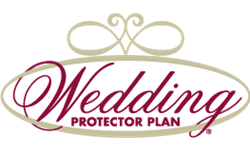 (PRWEB) December 03, 2014
The Wedding Protector Plan®, underwritten by an A++ company, is encouraging brides and grooms to insure their upcoming wedding when the planning begins. The wedding and event insurance provides coverage for many problems including vendor mishaps that may be avoided if insured properly.
Issues with wedding vendors were again the most frequent wedding insurance claims filed in 2013. The most common vendor mishaps included photographers, videographers, and limousines failing to show, caterers going out of business, and event venues closing due to bankruptcies.
Couples planning to wed should take several precautions to insure their wedding investment is protected.
1.Purchase wedding/event insurance when contracts are signed and deposits are placed.
2. Research potential vendors and obtain testimonials/references from previous clients
3. Have a written contract with every vendor
4. Read and understand all contracts before signing
5. Consult with a wedding planner for vendor references
With the upcoming engagement season, the Wedding Protector Plan® is reminding couples that the best time to purchase insurance is when the wedding planning begins. The no-deductible Wedding Protector Plan® is helping a growing number of couples protect their budget for as little as $160 by covering items such as lost deposits, unavoidable cancellation due to weather or military leave, lost or damaged photographs, gift breakage, liability concerns and more. Couples can quote and purchase securely online.
About the Wedding Protector Plan®
The Wedding Protector Plan®, underwritten by Travelers, provides coverage for many problems such as certain severe weather causing wedding cancellation or postponement, transportation shutdowns, lost deposits, and other headaches that can ruin the anticipated celebration. Consumers may also have the option to add liability insurance