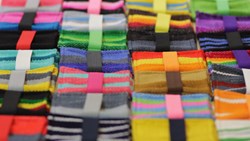 There are colors for the girliest girl, the most macho guy, and everyone in between.
Logan, Utah (PRWEB) November 06, 2013
There is finally a minimalist wallet available that has the style to appeal to everyone—because it is color customizable. The WeaveSleeve Wallet has recently been launched as a project on Kickstarter.com. It is the most hip, colorful, and fashionable minimalist wallet available on the market. It comes in 32 different color patterns with 15 different colors of band to choose from. That provides over 450 different band and color combinations. There are colors for the girliest girl, the most macho guy, and everyone in between.
Not only does the WeaveSleeve Wallet boast the most stylish colors available in a minimalist wallet, it also has the most unique functionality. It features two pockets: a side pocket for quick access, and a wide pocket for those items you want to keep more secure—thanks to the stylish, ¾ inch elastic band. In addition to the convenience of having two different orientations of pockets, the elastic band can also be used to secure items to the outside of the wallet, like cash, gum, or your cell phone. The WeaveSleeve Wallet has been quality tested by real people using it in the real world, and their feedback has been used to create a desirable and coveted product.
The WeaveSleeve Wallet is 100% handmade from high-quality fabric that is hand woven by female artisans in Guatemala. These women realize that their skill is a dying art. Within their country, they cannot generate enough profit from their weaving to support their families, so their young daughters have no desire to learn and carry on the tradition. However, the successful funding of the WeaveSleeve Wallet project, and it's continued success, will provide these women with enough work to make more money than their husbands. So not only will this project help to sustain these women's lives, it will also help to revive the culture and tradition of weaving among the younger generation by making it a profitable venture.
This is a family-run project led by Andy Thunell. He lived in Guatemala for two years and has returned there many times in order to develop a relationship with the artisans involved in the weaving. Yes, Andy knows them personally; yes, they will be well compensated for their work; and yes, this will make a difference in their lives.
Andy has taken this project to Kickstarter to be able to offer the WeaveSleeve Wallet in so many colors. The handmade nature of the project allows for flexibility in production. Rather than having to meet minimum orders of each color, the artisans can be tasked with creating colors to order. The Kickstarter platform will also allow for enough initial capital to successfully begin production.
For more information about the WeaveSleeve Wallet and its Kickstarter campaign, please visit the WeaveSleeve Kickstarter project page here. You can also contact Andy directly by emailing him at weavesleeve(at)gmail(dot)com.