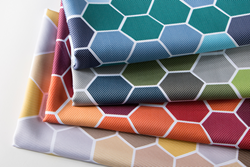 "We've made it our mission to change the way people decorate. To reduce their frustration and increase thier satisfaction. To allow consumers to create exactly the look they want, without compromise." Flint Davis, President of WeaveUp
Durham, NC (PRWEB) May 10, 2016
WeaveUp makes decorating easier and more satisfying by enabling consumers to create and print their own designs on fabric or home décor products, or customize one of over 10,000 designs to suit them. Their groundbreaking Customization Tool automates the color separation process of uploaded designs and allows for customization of colors, scale and pattern repeat without special software or training.
Until now, consumers struggled to get their homes to look exactly the way they envisioned them. Colors didn't match, patterns were unavailable and the fabrics weren't quite right. Even the most determined and passionate decorator ended up settling due to the limited fabric and product options available. WeaveUp eliminates all these obstacles by giving customers complete control over the color, pattern, repeat on their choice of fabric with a few simple clicks.
WeaveUp's Design Library is growing everyday, in part because of derivative designs. Derivative designs are created when a user customizes, or "riffs," on an artist's design and changes the colors, scale or repeat. This collaborative aspect of WeaveUp can produce dozens of derivatives of a single design to accommodate the customer's needs.
WeaveUp is launching with a curated collection of 19 exceptional fabrics and plan to introduce wall coverings and finished products (pillows, shower curtains, etc.) in Q2. Other home décor products will follow throughout the year – any surface that can help our customer "customize" their home.
North Carolina's rich heritage of textile design and home décor manufacturing combined with the growth in technology expertise made Durham a natural choice for our headquarters.  
ABOUT WEAVEUP, INC.
WeaveUp makes "perfect" home decor achievable with the right patterns, colors and fabrics to decorate any room. WeaveUp provides homeowners the tools, support and production know-how of industry veterans. And a connection to a global community of artists for inspiration. WeaveUp believes your space should represent your style without costing you a fortune, driving you crazy, or you having to settle. WeaveUp. Settle for perfect. For more information, please visit http://weaveup.com/our-mission/