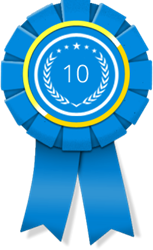 We knew that even large web design companies were simply churning out ... 'factory-made websites.'
San Francisco, California (PRWEB) June 05, 2014
Responsive Web Design (RWD) is a type of website programming which utilizes alternative layouts to create variable appearances for users based on the width of their browser. This means that when a person visits a website from a mobile phone, they can access the same site that they would otherwise from their desktop, but code reacts (or "responds") to the much smaller width of the phone to create a more mobile friendly display. This type of development has taken the web design industry by storm, giving design agencies new-found flexibility and their clients a nice price break. As a result, world-renowned awards organization 10 Best Design (10BD) has created a ranking of the Best RWD Firms.
10 Best Design originally grew from its small team of founders who had dedicated themselves to bridging the chasm between the websites being created by many web design firms and the potentials of Web2.0, such as HTML5, CSS3, and innovations like RWD.
"We were all working in the web design industry ourselves – as online marketers, developers, and what have you," said one of 10BD's founding partners. "We knew that even large web design companies were simply churning out what we call 'factory-made websites.'"
In working to help educate consumers about the options available to them, 10 Best Design evolved into an awards ranking which worked to separate high-performing companies from those which could be considered run-of-the-mill.
They consider the ranking of the Top Responsive Web Design Companies to be of considerable importance, as RWD is currently on the cutting-edge of the industry.
"We feel that companies which provide responsive are ahead of the curve, and that's really what we're looking for," said one of the organization's representatives.
Big Drop, based in NYC, came in first among web design businesses being awarded for excellence in RWD. Their home site is very sleek and modern, featuring a video background and single-page animated scrolling.
Coming in second, Blue Fountain Media (BFM) is a giant in the industry. This firm is large enough to handle any project, but small enough to provide an intimate feel for the smallest of their clients.
10 Best Design releases a large number of awards for web design agencies which can be seen on their vast and growing awards platform.