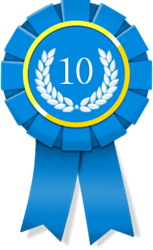 Atlanta, Georgia (PRWEB) March 11, 2014
The Creative Momentum took first place in 10 Best Design's award for top web design firms. It was followed in second place by Blue Fountain Media and third by CLiKZY Creative. 10 Best Design is an agency that grants web design firms awards for excellence in their field. It recently launched 10 Best SEO, which awards stand-out firms for their work in the realm of online marketing.
As part of this year's awards, spots number four through 10 went to Forix Web Design, Skookum, Kohactive, Southern Web Group, Cofa Media, Isadora Design and Dotcomweavers, respectively.
The Creative Momentum, based in Atlanta, GA, helps clients generate more traffic, sales and leads through an innovative approach to web development and design. This top-ranked firm is consistently recognized in the field for its services in web design and interactive, UI/UX, mobile design, branding and corporate identity, graphic design, business management mentoring, video and media, SEO, advertising and online marketing. Other awards it has received include the 2013 W3 Gold Award, Interactive Media Awards' "Best in Class" for consulting and pharmaceutical websites, and Best Explainer Video Company December 2013.
As a full-service creative web design agency, The Creative Momentum has made strides in the design and development industry through the implementation of the latest advancements in online tools and technologies. It's a fast-paced agency dedicated to servicing clients in sectors such as high-tech B2B, B2C, non-profit, security and consulting.
This company offers a step-by-step approach to working collaboratively with its clients. The first step is to meet with the client to create a brand, develop a strategy and set goals. The next step is to make a plan outlining the project and come up with priorities to ensure the goal is achievable. Next is design and development, where visual concepts are created, followed by testing and finally, launch.
Recognized for its ground-breaking work in the field of web design, The Creative Momentum takes top honors at this year's 10 Best Designs awards. Offering top-notch web design solutions as well as brand and marketing strategies, The Creative Momentum is further paving the way for creativity in the online space.