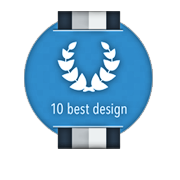 San Francisco, California (PRWEB) September 04, 2013
The 10 Best Web Design Firms awards are out by 10 Best Design. You can view the award recipients at 10 Best Design's awards page. These awards are given based on different criteria that the web design firms excel in, giving client companies long-lasting value for their money.
Marketing clients' businesses by building excellent websites for them is one of the best ways clients of web design services can benefit. Today, it's not enough to just have a website. People must visit that website for the business to reap any sort of benefit. Getting the word out to a business's potential customers and updating current customers about developments in the business is vital to a business's economic health. Web design firms that do just that create better websites for clients simply by knowing the company and the market it is competing in.
Working with clients locally is good, but serving clients on a global scale is also helpful to win one of 10 Best Design's awards. When clients can be served by a web design firm that has experience on a global scale, those clients benefit from the added knowledge and experience held by that firm.
Implementing and integrating mobile applications for a client company's website's design is becoming increasingly more important as more and more consumers use mobile devices to locate the information they want and need. Not having mobile capabilities for those consumers can eliminate them from the potential customer base, losing client companies money.
Web design firms that include original designs, artwork, photography and other graphics stand out from all the other web design firms out there. Client companies who receive these original items can be assured of a website that will stand out from the rest of their competitors, giving them a competitive edge not enjoyed by others.
Providing services to clients of all sizes, from major corporations to non-profits to start ups to individuals also helps to win a web design firm a 10 Best Design award. Many individuals are unable to afford to have their website professionally designed, and providing affordable services is essential to creating quality content that will reach others online. Donating part of the profits to organizations that benefit the planet and others is another means of earning a place on the 10 Best Designs list.
The ten best web design firms, according to 10 Best Design, for September, 2013, have shown they exhibit the above qualities that are so important to those clients, both companies and individuals, who desire the creation of their own high-quality website. Receiving a 10 Best Design award ensures consumers of web design services provided by web design firms that they are receiving the best of the best.