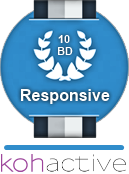 Chicago, Illinois (PRWEB) August 13, 2013
Kohactive has been awarded third place in 10 Best Design's list of Best Responsive Web Design Firms for their excellence in creating websites that embody the importance of a responsive web design in a world where access is no longer necessarily tethered.
Based in Chicago, Kohactive is a responsive web design firm that just celebrated its fifth anniversary in March. Started in 2008, this company has completed over 200 projects including 10 internal projects and apps. They pride themselves on the hundreds of lines of code they have written and the millions of pixels they have designed.
The small but savvy team is made up six guys who refer to themselves as the Kohactivators; a winning mix of thinkers, creative and technologists. This band of men is a strange but obviously successful blend of cat owners, cupcake aficionados, binary geeks, hip-hop gods in training, and former stuntmen who accept inspiration from everywhere.
Kohactive's website is the poster child for responsive web design. It is quirky and fun; their use of different shapes, mainly circles, deviates from the norm in the best of ways. The circles and rounded edges create visual interest and a unique, memorable site that has potential clients quickly seeking out their "contact us" button. The tablet and smart phone site keeps many of the elements from the traditional site but the buttons square off to best utilize the available space. It manages to be playful and showcase just what they're about as a company whilst remaining professional.
Inspired by the possibilities presented on their own website and in their portfolio, international clients such as Groupon, Nexum, and Gaming Partners International have chosen the kohactivators to head a number of their web designs.
They are also local at heart. Local clients include Illinois Tourism and a campaign for Chicago Ideas Week. Further proof of their unadulterated enjoyment of Chicago is evident all over their culture page. Part social media wonder, part love letter to Chi Town, the page is where the Kohactivators give clients and potential employers an insider's view into life on the inside of design and who they are outside of work. It's also a testament to their desire to integrate all types of social media into their designs and then make them accessible from anywhere you are via their handsome mobile sites.
These guys are the ones a company would hire to create a website or actualize your app idea and then meet up with after work for ice cream and a Cubs game. Pleasantly accessible as individuals and shockingly talented as a web design firm, Kohactive is creating a legacy of beautiful responsive web design for those clients who want it all packaged up together in the prettiest box available.