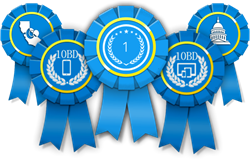 San Francisco, California (PRWEB) July 28, 2014
Search engine optimization, which is frequently referred to as SEO, is used to help websites rank higher in Google's search results. The following list is 10 Best Design's list of the Best SEO Web Design Firms in the United States.
Big Drop Inc
SEO has become increasingly popular in recent years, especially since Google revised their search engine algorithm to promote websites that contain high-quality content. Big Drop Inc, a New York City-based SEO firm, has worked with countless clients to create websites with high-quality information. More specifically, Big Drop has collaborated with companies like Lunar Toy Store, Preferred Merchant Services, DDS Connections, Medicare Long Island, and Apex Limousines on various SEO projects.
In terms of services, Big Drop provides expertise in animated videos, branding, online marketing, and web design. The company believes that using SEO-related marketing helps draw customers to a website.
Blue Fountain Media
Another one of 10 Best Design's top SEO website design agencies is Blue Fountain Media. Like Big Drop, Blue Fountain is headquartered in the heart of New York City. Search engine optimization plays a big role in Blue Fountain Media's commitment to helping their clients find innovative strategies to improve their online marketing portfolios.
Before beginning any SEO project, Blue Fountain's marketing experts conduct an analytics audit on their client's website. This audit analyzes current website traffic numbers, and uncovers SEO keywords that are frequently used in that client's industry. From there, Blue Fountain Media's team redesigns the customer's webpage to emphasize those keywords.
The SEO agency accomplishes this by building a website that focuses on an internal linking system. These links will be noticed by Google's algorithm, and the website will begin landing higher in search results.
CLiKZY Creative
One of the top search engine optimized web design companies in Washington, D.C. is CLiKZY Creative. CLiKZY's online marketing team believes that there are several steps in building a website's SEO. First, CLiKZY recommends that clients understand their market. This is because important key words differ greatly from industry to industry.
Another important aspect of CLiKZY's approach to search engine optimization is creating content that is user-friendly. Instead of packing a blog post full of useless keywords, CliKZY's copywriters will generate content that is beneficial and valuable to readers and web users. The Washington, D.C.-based SEO agency also believes that patience and persistence are extremely important when a company begins to use search engine optimization as an online marketing tool.