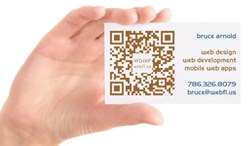 Websites designed and developed with the WebFL.US #RWD/#ReSS methodology eliminate the need for separate, redundant mobile websites.
Miami, Florida (PRWEB) August 12, 2013
With the launch of his new website WebDesignMiamiFlorida.com - WebFL.US for short - veteran Miami web designer and mobile app developer Bruce Arnold has raised the bar for responsive web design (#RWD) in South Florida by drawing on server-side enhancement technologies (#ReSS) to produce fluid and flexible desktop, notebook, tablet and smartphone presentations that not only respond to screen dimensions but also adapt to device capabilities.
"The Mobile Web has arrived," Arnold stated. "The Gartner Group predicted that 2013 would be the first year for which more Web traffic would originate from mobile than desktop devices, and they weren't far off. According to Walker Sands, the mobile share of all Web traffic for Q1 2013 increased 78% over Q1 2012 to almost 24%, and Bluetrain Mobile sees the 50% mark as well within reach by Q1 2014. We predict that the Mobile Commerce share of all eCommerce will grow accordingly, and that the lion's share of all that new revenue will go to the online marketers whose websites are adaptive as well as responsive."
Bruce Arnold's objective with WebFL.US is to provide a textbook example of standards-based front-end web development leveraging device-agnostic #RWD augmented by device-aware #ReSS. Its web pages consist of custom handcoded PHP-generated tableless HTML5 and CSS3, unobtrusive Javascript and jQuery with swipe-and-tap sliders, embedded video and RSS components, and Schema.org structured data for Google Rich Snippets and Semantic SEO - all of which have been (a) W3C standards compliance validated as to source code and style sheets, and (b) visibility and accessibility verified with respect to metadata, separation, accessibility, semantics, syndication, links, internationalization and mobile-friendliness.
The WebFL.US website template is fully responsive to every page request, screen orientation or browser width change detected - with content layout and page presentations adjusted in real time accordingly. At a resolution of 1920 pixels, its four major content blocks fill a large desktop monitor screen from left to right. On a laptop or notebook PC with 1280 resolution, the first three blocks fill the screen with the fourth wrapped beneath. On a landscape-oriented iPad or Android tablet computer with 1024 resolution, the first two blocks fill the screen with the last two wrapped beneath. At resolutions below 970 pixels the header and footer areas are toggled off but still available. On a portrait-oriented tablet with 768 resolution, the first block fills the screen with the last three wrapped beneath. At viewport widths below 768 only the first three content blocks are displayed - below 480 only the first two, and below 240 only the first. And for viewport widths below 200 pixels, all page requests are redirected to a standalone mobile minipage located at m.webdesignmiamiflorida.com.
"Websites designed and developed with our #RWD/#ReSS methodology eliminate the need for separate, redundant mobile websites," Bruce Arnold explained, "And you don't have to resort to native mobile app wrappers that can lock you into specific vendor platforms in order to get visibility on the most highly prized real estate there is in Mobile Web marketing: the mobile device home screen. Your audience doesn't need to download anything from any app store, and they can easily add your one-touch icon to the homescreen of their Android, Apple or other tablet or smartphone."
About WebDesignMiamiFlorida.com | WebFL.US
WebDesignMiamiFlorida.com (WebFL.US) is HQ for Miami Beach FL web developer Bruce Arnold (Bruce[a]tWebFL[dot]US|786-326-8079), the expert-rated South Florida web designer to choose for native, hybrid or HTML5 Mobile Web apps and device-aware responsive web design (#RWD/#ReSS) that is W3C HTML/CSS3 validated, WAI/WCAG accessibility checked, I18n issue-free handcoded PHP/MySQL and jQuery/JavaScript with embedded media and Semantic Web RDFa metadata or Schema.org Structured Data/Rich Snippet Semantic SEO.