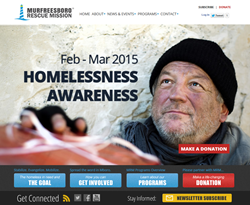 ...Inasmuch as ye have done it unto one of the least of these my brethren, ye have done it unto me. -Matthew 35-40
(PRWEB) March 30, 2015
GoHooper.com announces the launch of a new website for Murfreesboro Rescue Mission as they seek to reduce homelessness in the Middle Tennessee area.
They offer homeless prevention services by utilizing the community's network of support agencies to offer counseling and provide referral information to clients in crises. They also work in partnership and collaborate with area churches, businesses and other service providers to offer programs that help clients overcome barriers that hinder their progress in returning to mainstream living.
The programs offered by the rescue mission are designed to teach basic living skills, educate, and encourage clients by helping them establish a relationship with Christ and give them a sense of value in their immediate community. The Life Recovery Program is a seven month program aimed at reclaiming lives lost to addictions and other life degrading issues. The Single Resident Occupancy or SRO program is designed to help graduates by providing clients with a place of residence while saving money and preparing to re-enter the community.
They also aim to educate the community on best policies for helping those struggling with life degrading issues and provide service opportunities for individuals who desire to donate their time and resources.
GoHooper.com is a full-service web design agency based in Nashville that provides affordable web development, graphic design, branding, social media, SEO, internet marketing, video production and print & TV commercials for clients across the country.