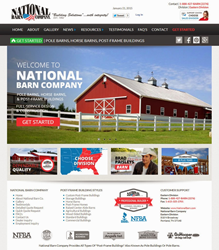 " We're SO EXCITED about our brand new website launch! Thank you to John Hooper (CEO) of GoHooper Web Design for a GREAT JOB!"
Nashville, TN (PRWEB) March 30, 2015
GoHooper.com announces new website for National Barn Company a pole barn construction firm operating in over 27 states since 1992. The web design company in Nashville takes on many businesses large and small is known for their branding and design ability. National Barn Company's Mountain Division spokesperson Cheryl said quote: "We're so excited about our brand new website launch! Thank you to John Hooper (CEO) of GoHooper Web Design for a great job!"
A little more about NBC: National Barn Company provides all types of "Post-Frame Buildings" also known as Pole Buildings or Pole Barns. These structures can be used for a variety of purposes, from garages, to horse barns, to riding arenas, to hay barns, to homes. National Barn Company has constructed more than 10,000 buildings in 27 states since 1992. National Barn Company is a full-service business, providing customers with custom building designs, building kits and construction. National Barn Company specializes in providing a complete building solution, from concept to finished construction.
Each pole barn or horse barn is custom designed to meet the client's specific needs. National Barn Company is also unique because they will design, manufacture and deliver all of the material to a construction site before they process the first payment.
Their new website is easy to navigate and a potential client can access photo galleries to get ideas on new post-frame building construction. A client can easily fill out a "Quick Quote" request or opt to fill out a "Detailed Quote" to explain exactly what they want. Either way the concierge services that National Barn Company has can help a client decide on best options depending on location and geographic requirements.
----
GoHooper Web Design in Nashville is a company who offer affordable, friendly internet web design services. They serve clients in LA, Las Vegas, New York, Miami, Nashville & Global! Some of their Nashville region city locations include: Brentwood, Franklin, Murfreesboro, and Smyrna.
As a full service web design agency GoHooper.com provides concierge service for web development, graphic design, branding, social media, SEO, online marketing, video production, print & TV commercials. GoHooper.com will listen to a business and their concept, vision, and goals, then strategically put together a game plan to achieve that business' goals.
Ranging from business start-ups & organizations to celebrities & pro-athletes they handle any sized project.
Company website: http://www.GoHooper.com