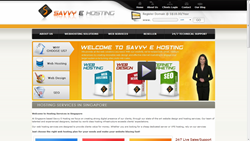 Our web designing and web marketing services are simply the best that customers can fully rely on.
Singapore (PRWEB) December 15, 2014
SAVVY E HOSTING tops the list of companies that offer excellent, reliable and cost effective web designing, hosting and web marketing solutions to customers. Established in Singapore in 2008, the company is known for offering genuine, innovative and result oriented web designing, hosting and scores of other services that have enabled businesses to not only grow but also make their online presence a force to reckon with.
Talking about the website designing and marketing services, one of the executives working with the company said, "Our web designing and web marketing services are simply the best. Our team of professionals are expert in positioning client's website on the top of Google search results and boost the lead generation process, which further increases the possibility of leads being converted into sales. We help clients dominate the major search engines results related to their top keywords, thereby brining in unexpected sales figures and visitors to the website."
No matter if clients have small, big, local or worldwide business, SAVVY E HOSTING provides services with proven and organic optimization, SEO friendly copywriting, inbound link building, social media marketing, conversion tracking, monthly analytics and much more. The website designing, web hosting and promotion services provider is capable of planning each move meticulously, execute it and bring propitious results to client's website at highly affordable prices.
The executive has this to say about the web hosting services that the company offers, "We offer specialized, premium, shared hosting, VPS and dedicated server hosting solutions to thousands of customers scattered all over the world. We understand what it takes to be there and provide cutting-edge web hosting services as per the diverse needs of businesses. Unlike other companies in the market, we provide true 24/7 support, 99 percent uptime guarantee and 30 days money back guarantee."
SAVVY E HOSTING offers all in one hosting solutions that are simply the best for those who want to promote their businesses online or make personal websites. Additionally, SAVVY E HOSTING's range of scripts with one click installation feature includes blogs, carts, newsletters, shopping carts, CMS, project management system and many more. Those who are looking for cheap web hosting provider in Singapore, can fully rely on SAVVY E HOSTING for expert services.
About SAVVY E HOSTING
SAVVY E HOSTING is one of the highly reputable web designing and VPS hosting services providing company based in Singapore. The company has earned a formidable reputation and is revered among customers for providing innovative web designing, hosting and marketing services. The web designing and hosing services provider takes immense pleasure to have so far successfully catered to the diverse needs of clients. SAVVY E HOSTING offers a range of cutting edge Windows and Linux web hosting and web designing services as per the varied business needs. In the business since 2008, SAVVY E HOSTING remains the most preferred choice for businesses and other establishments that are looking for reliable server hosting in Singapore.
Contact Information:
111, North Bridge Road,
#05-32, Peninsula Plaza,
Singapore 179098
Office Tel: +65 6100 2497
Email: sales@savvyehosting.com
Website: http://www.savvyehosting.com/
###