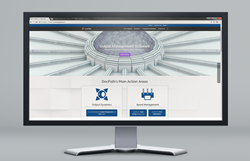 DocPath's new site has been renewed with a modern, clean design and offers a user-friendly experience with rapid and clear access
Suwanee, GA (PRWEB) July 12, 2017
In line with the company's efforts to cultivate and maintain lasting client relationships through quality document software products and services, DocPath recently announced the launch of its redesigned Website
DocPath's new site has been renewed with a modern, clean design and offers a user-friendly experience with rapid and clear access to help visitors to quickly and easily navigate and find the information regarding DocPath's document technology software they need.
Key features of DocPath's new document technology website not only include a refreshed, more attractive design and a more engaging user experience, but it also provides a more comprehensive understanding of the company's main action areas: Output Dynamics and Spool Management (i.e. Toner Saving and Printing Process Optimization). The Output Management area covers DocPath's Document Output Management products by business need, while the Spool Management area encompasses DocPath's solutions geared towards optimizing print processes, especially in remote environments, as well as flexible and scalable document technology solutions for toner saving by customized saving profiles, among a wide range of other products.
In addition, the new document technology website provides enriched content regarding DocPath's document software products and services for Customers and Partners. New case studies and examples help visitors better understand the possibilities and benefits of DocPath's document technology solutions for enhancing their inbound and outbound communications across different document distribution channels. Furthermore, the site's homepage enables easy access to DocPath's Newsroom, the official page for press releases, opinion articles and the company Blog, which was created as a window to the company culture and a platform to communicate views on general and specific document technology industry issues.
Following the latest market trends in the document technology sector, DocPath's renewed website is currently available in English and Spanish and will be rolled out in Italian shortly. The site will also be translated to other languages, such as Portuguese and French.
With its redesigned website, DocPath continues to strive to provide its Clients and Partners with the best document software products and services available, by delivering richer content and clear information about how DocPath's products help companies optimize their business document processes and communications at each level.
About DocPath
DocPath is a leading business document software manufacturer that provides its world-wide customers the technology that allows them to complement their ERP and implement sophisticated Customer Communications Management and Document Output Management systems, as well as advanced document spooling software. Created in 1992, DocPath's Solutions are found in companies scattered across the globe. Its international clients include prestigious banks and first class corporations, which are aided by DocPath's Solutions as the complicated and critical tasks involving the design, generation and distribution of business and customer documents are significantly simplified. DocPath maintains a strong commitment to R&D&i, an area that receives a good amount of its revenue, and in which lies the key to the company's success.
For more information, visit: docpath.com.
Disclaimer: DocPath trademarks are the property of DocPath Corp. Other company, product and service names may be trademarks or service marks of others.