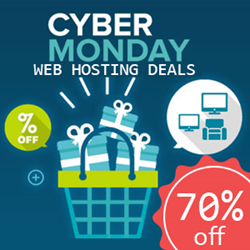 Users of Linux web hosting, VPS and Windows hosting can all find the best annual discounts on the coming Monday.
San Francisco, CA (PRWEB) November 30, 2014
For the celebration of the upcoming Cyber Monday, the first Monday in December 2014, shared hosting, VPS and Windows hosting are all heavily discounted by many web hosts to attract consumers. After comparing the offers from hundreds of companies, LinkedHosts today published 3 lists of the best hosting deals based on different hosting types.
"We are thrilled to introduce some of the best annual hosting discounts that fascinated us at the first glimpse. Our efforts are not in vain, and consumers can simply pick a deal without spending time searching around on Google or Bing," said Susan Rosie, the co-founder of LinkedHosts.
1) Shared Hosting Deals
On the list designed for shared hosting users, A2Hosting takes the first place due to the 50% discount applicable to all billing cycles. As the 3-year subscription of Prime plan costs $5.99/mo regularly, the discount brought by this promotional link lowers this price to $3.49/mo. People who want to purchase Prime+SSD plan can also get the effective price down to $4.99/mo.
Both plans include unlimited resources and $45 marketing credits. A2Hosting guarantees website security by offering automatic backups, HackScan and 6Scan vulnerability scan. Besides, the company improves page loading by utilizing CloudFlare CDN, Railgun Optimizer and SwiftServer platform.
2) VPS Hosting Deals
For VPS hosting users, HostGator has released the best promotion that makes it possible to obtain a VPS with less than $10/mo. The company offers an exclusive promotional link through which everyone has access to a 55% discount. The sale reduces the price of the company's VPS hosting plans to $8.98/mo. 2 dedicated IPs are included in all plans.
3) Windows Hosting Deals
In terms of Windows hosting, Host4ASP.NET tops the list as it offers a 70% discount for $2.09/mo only. The Monday sale is the exclusive opportunity for getting such a large reduction. To participate in the promotion, people need to visit the official website of Host4ASP.NET by clicking this special promotional link.
Described as the best choice for bloggers and small businesses, Host4ASP.NET increases the value of its services by integrating daily backups, anti-spam protection, and WebsitePanel control panel.
"All the promotions will end on Dec. 1. People who want any of these discounts should hurry up, or there will be no chance any more in the next months to get such offers," added Susan Rosie.
In addition to the deals listed above, the list also contains the ones from InMotion Hosting, Arvixe, BlueHost and HostMonster. For more choices, visit http://linkedhosts.com/monday-web-hosting-sales-december-2014/.
About LinkedHosts
Established as a comprehensive web hosting review site, LinkedHosts researches web hosting products, seeks valuable coupons, and introduces useful tools to help beginners manage and optimize websites.