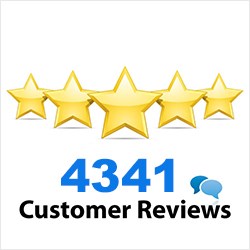 San Francisco, CA (PRWEB) January 09, 2014
The leading web hosting review site BestHostingSearch.NET has released 2014 web hosting review and ranking of dozens of web hosts based on the satisfaction rates brought by 4341 verified customer reviews as well as their own years' review on 200+ companies' service quality and performance.
The 3 companies for which the site has received the most customer reviews are InMotion Hosting, BlueHost and WebHostingHub. According to the statistics, all of them are rated averagely more than 4.8 of 5 in both editorial review and customer satisfaction research.
So far, 1066 InMotion real customers from more than 20 countries have submitted reviews at BestHostingSearch.NET, along with their detailed ratings on the company's overall value, performance, control panel and technical support. The statistics show that 98.9% of them are satisfied with InMotion overall value and 98.5% of them are satisfied with the reliability.
The editorial review, which is taken on the same aspects as mentioned above, gives a rating of 5 of 5 for the company's performance and support service. The shared service, which is now available at a price starting from $3.49/mo with the 50% discount valid for subscriptions through this promotional link, is regarded as one of the fastest and most reliable services recommended for hosting small to medium sized businesses and e-commerce software.
There are 512 customer reviews for BlueHost at present which indicate that the company is rated 4.98 of 5 on average and enjoys a 99.6% customer satisfaction rate overall, the highest one among all the companies that have been reviewed by the editors. In the editorial review, BlueHost gets a rating of 5 of 5 for all the reviewed aspects.
Due to the excellence in web hosting service, the company has a high ranking on the recommendation lists of many applications, such as WordPress, Joomla and Drupal. Offering service at $3.95/mo, it is an optimized choice for personal and small business sites.
WebHostingHub gains a rating of 4.89 of 5 from 472 customers, and the percentages of the satisfied customers in overall value, performance, control panel and technical support are 97.9%, 96.6%, 96.2% and 97.0% respectively. The editors' evaluation of the overall value of the company's service (starting from $1.95/mo) is 4.8 of 5.
Considering the combination of the devotion to customer satisfaction and high service quality, the best hosting award released by BestHostingSearch.NET is granted to BlueHost, followed by InMotion Hosting, Arvixe, WebHostingHub and A2Hosting.
For more information, follow this link to read details about the web hosting reviews and rankings.
About BestHostingSearch.NET
Founded in 2006, BestHostingSearch.NET is an independent review site that helps webmasters select the right shared, VPS, dedicated server or reseller hosting service.