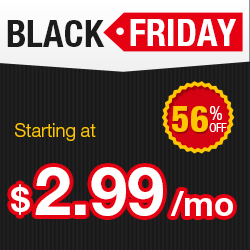 These suggestions for web hosting Black Friday sales are aimed to help consumers get the best discounts in the industry.
San Francisco, CA (PRWEB) November 27, 2014
After conducting a deep survey of the real discount and pricing information of 200+ web hosts, the web hosting review site PHPMatters has come up with the best suggestions for web hosting sales on Black Friday 2014. All readers who depend on the guides published on PHPMatters now have access to the top discounts in the industry.
The suggestions mainly cover 2 categories, including Linux shared web hosting and VPS hosting. For each kind, there are several recommendations that are selected based on a series of criteria. The similarities among all the offers are big discounts and plenty extras.
1) Shared Hosting Sales – 56% Off
The best sales are offered by A2Hosting and InMotion Hosting, both of which allow over 50% off for their shared hosting services. The special offers are available for people using specific promotional links. Here are the details about them.
A2Hosting provides a 50% discount for both shared hosting plans, with which the current prices of the plans are $2.99/mo and $4.49/mo instead of the normal $5.99/mo and $8.99/mo. Along with the unique promotional link are also advertising credits and data backups.
The Friday offer from InMotion is a 56% discount. The reduction InMotion promises applies to all shared hosting accounts created during the promotion. Therefore, the Launch plan can be purchased at the price of $3.49/mo through this promotional link.
2) VPS Hosting Sales – 50% Off
BlueHost is the best recommendation in terms of VPS hosting promotion. The company allows a 50% cut on VPS plans, as well as additional domain names and dedicated IP addresses.
Standard, the primary plan, now costs $14.99/mo, giving 1 domain name, 1 IP, and high VPS configuration with on-demand resources that can be added dynamically. To get the offer, people need to go through this promotional link. Signing up on Friday, they can also get 50% off domain registration and Domain Privacy.
"Businesses need VPS hosting to guarantee their web presence, and these discounts bring the best opportunities for them to get a good service at the best possible price," commented an editor at PHPMatters.
To get more promotions available on this Friday, visit https://phpmatters.com/black-friday-web-hosting-promotion/.
About PHPMatters
PHPMatters provides an extensive resource for PHP developers and beginners to learn about PHP coding, scripts, SEO, and web hosting.