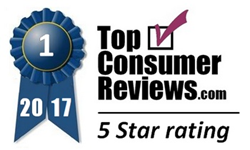 Since 1999, InterServer has offered top-notch web hosting services for customers large and small.
Overland Park (PRWEB) July 31, 2017
TopConsumerReviews.com recently awarded their highest five-star rating to InterServer, an industry-leading service among companies offering Web Hosting.
Every website - from small businesses to bloggers and more - requires a web hosting service. With so many companies offering to host websites, it can be challenging to determine which service to select. Primary considerations include cost, features, security, performance and reputation. Customers will want to carefully determine which web hosting service meets their business or personal needs while still fitting within the budget.
"Since 1999, InterServer has offered top-notch web hosting services for customers large and small," explained Brian Dolezal, of TopConsumerReviews.com, LLC. "Their simple flat-fee pricing starts at an extremely competitive price per month, and users won't find themselves bound by the hefty contracts and commitments that many other web hosting services require. And, the available support - both directly from InterServer as well as from the online community forum - is thorough, helpful, and even friendly. We're impressed by the no-surprises approach that InterServer takes to keeping their customers' sites up and running, and we're happy to give them our top ranking among Web Hosting service providers in 2017."
To find out more about InterServer and other Web Hosting options, including reviews and comparison rankings, please visit the Web Hosting category of TopConsumerReviews.com at http://www.topconsumerreviews.com/web-hosting/.
About InterServer
InterServer has been providing the same services for the last 18 years. As a technology and product innovator, Interserver is able to provide its innumerable customers with innovative products and services designed to complement their existing businesses. Serving customers ranging from individual freelancers to Fortune 500 companies in many countries, Interserver has built a solid reputation for security, reliability and technical expertise all while providing outstanding customer support.
About TopConsumerReviews.com
TopConsumerReviews.com, LLC is a leading provider of independent reviews and rankings of hundreds of consumer products and services. From Web Hosting to Business Phone Systems and Company Incorporation, TopConsumerReviews.com delivers in-depth product evaluations in order to make purchasing decisions easier.