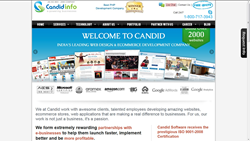 'Our endeavor is to provide leverage to individuals and businesses entities of varied sizes to venture online and explore growth options in the virtual world and shape their destinies accordingly.'
Noida, India (PRWEB) August 08, 2014
With the advent of internet, the entire perception of marketing has undergone a sea change for good. Be it a newbie or seasoned business entities, everybody needs a viable presence on the virtual world. Noida, India based Candidinfo was one among the first few to realize the limitless potential of internet to the fullest. An ISO 9001:2008 company, Candidinfo has, over the years, earned a great reputation for offering quality web development services to individuals and businesses of varied sizes not only in India but also to those located in the foreign shores.
With intent to offer some insight into SEO services on offer, a senior official in a recent interview said, "Our endeavor is to provide leverage to individuals and businesses entities of varied sizes to venture online and explore growth options in the virtual world and shape their destinies accordingly. We specialize in assisting enterprises to elevate their success to a new level. By designing and building new web sites; maintaining and enhancing existing web sites, hosting web sites and promoting web sites through Search Engine Optimization, we offer the much needed impetus to businesses."
Founded in 1999, Candidinfo is engaged in providing excellent web development services, which include search engine optimization, social media marketing, SEO outsourcing, content management solutions, e-commerce solutions and staffing solutions. In addition, the premier offshore web development service provider also offers comprehensive and highly effective Web Design Maintenance Services at competitive prices.
With intent to offer insight into the web maintenance services, the official further stated, "Over the years we have developed great specialization in offering the best in class web maintenance services aimed at providing complete peace of mind to our clients. We do not charge exorbitant fees for our comprehensive services. Equipped with professional expertise and enviable experience, we can offer feasible maintenance solutions, irrespective of the type of the website. No matter if the clients require daily updates or monthly changes; we are always there to meet their myriad requirements to perfection."
Whether it is an HTML website, content rich site, CMS based website, Ecommerce website, real estate portal or for that matter corporate website, Candidinfo can handle them on highly professional bases. The maintenance services include Add/edit/delete content on the website, Add/delete images and photos, Adding/Removing pages, Adding/Removing products on e-commerce sites, regular updating of packages and product prices, Code (h tags, Meta tags etc) changes, Blog posting and updating, and Product listing management and much more. All the above-mentioned attributes make Candidinfo a company to Contract for Web Design Maintenance Services. For those looking for the best X-cart designs solutions, Candidinfo is the name to rely upon.
About Candidinfo:
Established in 1999, Candidinfo has done remarkably well in offering highly effective, comprehensive and affordable wed development services to its humongous clientele scattered all across the globe. It offers an array of quality services aimed at exceeding the expectations and needs of the clients that include search engine optimization, social media marketing, SEO outsourcing, content management solutions, e-commerce solutions and staffing solutions. Apart from other quality web development services, Candidinfo also offers quality Wordpress website development India services at highly reasonable rates. The company also offers custom X-cart E-commerce design solutions at reasonable prices.
Contact Information:
Candid Software
A - 82 Sector - 4,
Noida 201301
Phone: +91-9953139234, +91-120-6473344
Email: sales(at)candidinfo(dot)com
Website: http://www.candidinfo.com/
###