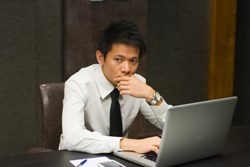 Be very careful when introducing highly unconventional ideas...
Orange County, CA (PRWEB) September 24, 2013
Maintaining a fresh and updated website is a critical aspect of a business's marketing strategy. While Search Engine Watch recently published a list of seven critical considerations to take into account when redesigning a website, Orange County web design company Bop Design has also released their own list of mistakes that can ruin a website redesign. "Too many people with half-developed ideas start implementing new strategies without fully thinking them through," says Bop Design principal Jeremy Durant. "Seasoned executives know that these mistakes can cost time, money, and even new clients."
Below is Bop Design's list of mistakes that interfere with otherwise sound marketing strategies.
Mistake #1: Trying to do too much
Businesses must remember who their clients are and concentrate their primary focus on how they are serving those clients. ECommerce websites should focus on selling merchandise. Corporate services like CPA firms or attorney's offices should focus on reassuring potential clients that they offer the expertise and professionalism the client seeks. An effective website redesign should focus on the business's main strategy and execute it flawlessly. Businesses should resist the temptation to 'be everything to everyone' and simply stick to what they do best.
Mistake #2: Thinking too far outside of the box
"Your goal should be to set your business apart from your competition while maintaining a familiarity that will put your clients at ease," continues Durant. "Be very careful when introducing highly unconventional ideas." Users will expect a certain look, feel, and usability from a website, depending on one's industry. Businesses should reference their direct competitors' websites and use those designs as a launch point. Subtle adjustments in color palette, fonts, layout, or stock photography can have a huge impact on how a website is perceived without making it seem outside of the marketplace.
Mistake #3: Indecision
A business should never rush to a launch a website that is incomplete or not fully functional. However, every week that a business's updated website is not being seen publicly is a missed opportunity for client engagement. Managers should set deadlines to approve drafts and designs from their web developers. If a website's main framework is ready and most content is locked, the site should be launched ASAP. Small tightening tweaks can be added later, provided they do not impact the website's overall usability.
Mistake #4: No clear call to action and/or contact information on each page
The business's contact information should be clearly highlighted on each page of the website. It can be featured in a sidebar, across the header, in the footer, or even on the website's overall page titles. "You never know when a prospective client will decide to pick up the phone and you don't want to inhibit their momentum by burying your contact information," says Durant. When working with a web developer who provides copywriting services, this will not be an issue. Web writers know that the single most important piece of content on any web page is the call to action. Businesses who develop or update their own content internally, however, must scan each page and identify at least one area where the reader is directly solicited to contact the business.
Mistake # 5: Trying to do everything oneself
Even the smallest, simplest sites have lots of content. Multiple pages with multiple content areas must all be filled with compelling copy, design, and imagery that will help a business stand out. Executives with busy daily schedules would do well to work with a website design company that can support their business interests. "There are plenty of reputable companies that offer affordable website design and copywriting services," says Durant. "They employ teams of experienced people who are enthusiastic about creating compelling websites for businesses."
Mistake #6: Not doing anything
"This is the most tragic mistake because it leads to stasis and neglected websites," Durant continues. "Delaying the start of the project because you're overwhelmed is a common mistake that can be easily avoided. If you have been 'meaning to' update your website for more than four months, then it's time to call in a professional and get the ball rolling. You'll feel so much better after you do."
A business website should be a source of company pride and a key tool to support the business's marketing strategies. Though the process can be overwhelming, it is also an opportunity for executives to get reacquainted with all aspects of their brand and to see their business through the eyes of their prospective clients that can lead to unexpected and valuable insights for the future.
Bop Design
Bop Design is an Orange County web design agency with offices also in San Diego and the New York metro area. We express a business values through branding, advertising, design and web design. We also help attract a firm's ideal customer through search engine optimization and search engine marketing. The marketing firm's focus is on small businesses that want an external team of marketing specialists to help give their brand an edge in the marketplace.