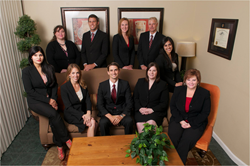 Fresno, CA (PRWEB) March 28, 2014
Attorney Lenden Webb, a breach of contract lawyer in California from WB Law Group, has always been in the forefront, helping businesses and individuals receive fair legal justice under the legal framework of the state. Recently, they achieved a significant victory on a Labor, Employment, and Pension Benefit related case, safeguarding their client's interests. The case titled "Rutledge vs. AmeriGuard Security Services Inc was featured on Thompson Reuters, and published as the trial of the month by both the San Diego County Bar Association and Fresno County Bar Association.
This stresses upon the importance of the case and its significance in cases related to wage disputes. Attorney Lenden Webb presented the case of defendant AmeriGuard Security Services in an accomplished manner, ensuring the company's much-needed victory in the San Diego County Superior Court in California. Speaking about the relevance of the case, Attorney Lenden Webb reveals, "Class action defendants typically back down and pay to settle even if they have done nothing wrong. However, in some cases, defendants will fight for their rights to the end. That's exactly what our client did. And we went all the way through the end of the trial and emerged victorious."
Mr. Webb fully stood by his client's claims which he felt judiciously appropriate and right. He states, "Under labor code section 203, an employee is eligible for up to 30 days of wages from an employer who fails to pay them on a timely basis. In this action, we were subject potentially to a month's wages for ~100 employees. For a cost-conscious employer who runs on thin margins and economies of scale, a large judgment can spell disaster. With a total claim value of over $4,200,000, our client was faced with the possibility of closing its doors if they lost this lawsuit. With over 550 employees, (some of which were not affected in this lawsuit), but it would have been a very tragic loss for the families of the other 450 employees who depend on AmeriGuard for their livelihood."
This Judgment brought the much-needed respite to the defending party AmeriGuard Security Services, and it established the insight and the sensible approach with which Lenden Webb, a breach of contract lawyer in California, presented the case and fought until the end. Sensing the far-reaching impact of the judgment on future labor and employment related cases; Thompson Reuters published it to show a wider level of audience their knowledge.
To learn more about Attorney Lenden Webb and his law firm WB Law Group, please visit their website http://wblawgroup.com/.
About WB Law Group
WB Law Group is a team of reliable business attorneys, headed by Attorney Lenden Webb. The law firm has two offices in Fresno and San Diego in California. They provide honest and straightforward advice to their clients and fight for their legal rights until the end. They have several important victories to their credit.
For more details about the particular case or their legal services, one may contact them at:
Telephone: (559) ¬431-4888 (Fresno); (619) ¬399-7700 (San Diego)
WBLaw Group Facebook
WBLaw G+ Profile
WBLaw Linkedin
PR Contact
Jimena Cortes
949-861-8414
info (at) WizardMedia (dot) net
http://www.WizardMedia.net