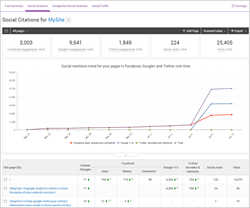 London, UK (PRWEB) July 22, 2014
Web CEO Online, one of the top 4 industry-leading cloud-based SEO platforms, and one with white label collaboration and reporting features, is now making social media marketing results more measurable.
Web CEO Online consists of 14 tightly integrated tools essential for SEO site audits, link building, rank checking, link quality monitoring, social media marketing and web marketing analysis.
Earlier this year the Internal Links Optimization tool was launched to help web marketers adapt their promotional strategies to the new Google Hummingbird update requirements. Social Media Marketing is another vital part of the modern marketing mix. That is why a new Social Engagement tool was developed by the Web CEO team.
The Social Engagement tool complements a savvy manager's web marketing armory, because one cannot now imagine a successful website without a consistent social media promotion plan. A forceful social media strategy includes:
1. Online Reputation Management. A marketer should be informed when the most important keywords (including competitor names) are mentioned on hundreds of thousands of discussion forums, blogs, microblogs, social networks, bookmarks and other sites with communication functions.
2. Social Media Popularity Monitoring. It is necessary to track social media ROI and monitor how the content shared on social networks converts.
3. Benchmarking. Analyzing competitors' social activities is an important part of fine-tuning a social media marketing plan.
4. Social Traffic Tracking. Results-oriented marketing is impossible without analyzing which social media channels are driving the most traffic and what drives the most conversions.
Web CEO Online's Social Engagement tool was created with the above marketers' needs in mind.
The 'Social Citation' report discovers your site's pages that get the most social engagement via Facebook, Twitter and Google+. This report helps site owners refine a content strategy by creating more content of the most shareable types to attract new readers and grow a bigger community.
The 'Competitor Social Citations' report is used to benchmark a site against its competition and to estimate how much work is needed to outrank the competitors.
The 'Social Traffic' report connects Google Analytics with the Web CEO Online Social Engagement tool and adds data to analyze. The report shows the amount of visits brought by social networks. The social traffic analysis is vital to marketers who can then focus on the most profitable social media channels.
Web CEO Online understands the importance of consistent social media marketing in the modern web marketing mix. The Social Engagement tool is available with no limitations for all WebCEO Online users (starting with the Free Plan).