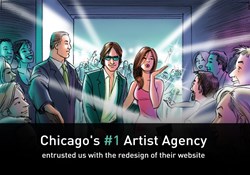 Great artwork helps creatives sell their ideas easier. We are graphic missionaries. Which is a phrase that always breaks me up!
Chicago, IL (PRWEB) September 23, 2013
Steven Edsey & Sons recently launched their new website (http://www.edseyart.com), designed and developed by Intechnic (http://www.intechnic.com).
The goal from the start was to envision, design, and execute a results-driven website with the singular purpose of attracting visitors and converting them into clients. The website uses strong value statements and strategically placed "calls to action" to establish Steven Edsey & Sons as the only clear choice for animatics, storyboards, design and illustrations.
This was critical for the success of the website as, according to owner Steve Edsey, "Great artwork helps creatives sell their ideas easier. We are graphic missionaries. Which is a phrase that always breaks me up!"
The new website, however, is about more than just business. Much as Steven Edsey & Sons' office is a living art studio, the new website is as well. Clients and artists visit the site daily and it is a place for collaboration where clients, artists, illustrators, and editors can interact, ensuring that the client's ideas, vision, and passion are presented in the best way possible. This is accomplished through a fully integrated file exchange system, creating a more intuitive and user-friendly experience.
"It's not an easy task to develop a new website for a creative agency. The website had to showcase the personality, vision and talent of dozens of artists. It was a true collaborative effort and everyone on both creative teams is very happy with the outcome," said Intechnic's CEO Andrew Kucheriavy.
To increase the "art studio" theme of the website and to enhance the user experience, Intechnic built the site with responsive design, so no matter what device visitors use to access the site, they will experience the full value and impact of the new design. This is especially important in attracting new artists and clients as more and more visitors want to be able to access a website from any device. "This site is all about ease of use. Creatives check in from any device, see our work, choose an artist and move on to their next assignment," said Senior Vice President Paul Eberhardt.
Additionally, the site was built to be fully integrated across social media platforms, including dynamically updated content that is syndicated and distributed through social networks. New content (portfolio illustrations, video, and blog entries) are automatically syndicated, distributed, and promoted through Facebook, Twitter, LinkedIn, Flickr and Vimeo.
The redesigned website was a collaborative effort lead by Intechnic's web development team, headquartered in Chicago, IL. Intechnic has been a part of Steven Edsey & Sons' Internet strategy since 2007 and is proud to continue taking their creative vision and translating it into an impactful, engaging web presence.
Note: Access Steven Edsey & Sons' new website at http://www.edseyart.com.
Media Contact:
Grant Epstein
847-970-6190 ext.119
grant(at)intechnic(dot)com
http://www.intechnic.com