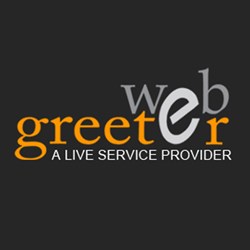 Businesses like to engage online visitors to improve sales & customer service. This is what WebGreeter has always been about, & we see a growing trend towards our unique brand in many regions around the globe.
Chicago, IL (PRWEB) September 27, 2013
WebGreeter, a global live chat service provider, has adapted a complete new outlook with the aim to enhance the appearance of the website along with its functionality. The new website layout does not just give a fresh look to the website but also gives prominent space to a number of important tools with relatively improved space to significant tabs. The landing page also offers bigger and better exposure to sections like About Us, Features, Partners and so on.
A few of the above-mentioned sections were either not there on the website or were not having prominent space on the site. Industries, About us, Services, Blog and Contact us sections were previously featured below 'Home', 'Our Services' and 'Partners' tabs at the bottom of the landing page where they did not get due attention. The basic purpose of giving prominent space to these sections is to enhance their exposure and usability.
The fresh layout of WebGreeter, leading live chat service provider, also gives an opportunity to the visitors to explore all the major sections of the website including News & Events, Features, Eligibility Check and Chat with the website representative while staying on the homepage. Previously, there was also no such facilitation to check and go directly to the recent posts updated in the blog but now interested visitors can also keep check on the recent posts added to the blog and go directly to the desired post. It will save time that was previously spent in going through all the blog posts to find the one you are looking for. Site visitors can also get their hands on the testimonials exclusively written by the site's prestigious clients.
Another change incorporated in the new outlook of WebGreeter is that the brief overview of the features in descriptive form has been displayed at the homepage next to the slider. This overview helps new website visitors to know what the website is all about and how it can benefit your business.
Last but not the least, WebGreeter has also introduced improved version of the two of its most important features 'customized chat window' and 'enhanced multilingual support'. These are not new features but in new layout, special attention has been given to them so that the website visitors and users can make the most of these handy tools.