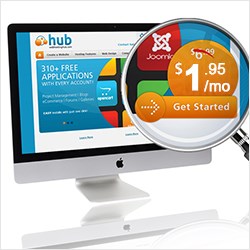 San Francisco, CA (PRWEB) December 17, 2013
WebHostingBing.com, an independent web hosting review site specialized in in-depth service review and secret revealing, has published an unbiased review of the leading shared web hosting provider WebHostingHub, along with the introduction to the company's exclusive discount. The review is based on personal hosting experience and verified customer reviews on price, features, uptime, speed, technical support, and technologies.
Based in Virginia Beach, WebHostingHub started the web hosting business in 2001. Over the past years, the company has been offering a single shared hosting package for both beginners and professionals to help them get their websites online easily and build an online business quickly.
The regular price of the all-in-one package is $6.99/mo, $7.99/mo and $8.99/mo for the 3-year, 2-year and 1-year term. The current promotion, however, cuts the price of the 2-year and 3-year billing down to $1.95/mo for the first 3 months and $3.99/mo for the rest months. For customers who want a shorter term, they can get a one-time 44% discount for $3.99/mo if they sign up for 1 year. The discounts are only valid for subscriptions through this promotional link.
To ensure a risk-free hosting experience, WebHostingHub provides all customers with 90 days money-back guarantee with which customers are entitled to ask for a full refund if they feel any dissatisfaction in the first 90 days and get a pro-rated refund for account cancellation after that period.
Besides, the web hosting package includes unlimited disk space, monthly data transfer, FTP accounts, and MySQL databases. The extras are a backup wizard, a free domain name for the first year ($11.99 value), a premium website builder, and $200 marketing credits.
WebHostingHub utilizes cPanel, a control panel coming with a well-organized graphic interface in which users are able to set up email accounts, add domains, create databases, or manage any other things related to their hosting accounts and websites. Softaculous, a user-friendly script installer, is also integrated with the control panel to give users a simple way to install and update the software they need.
The company operates 2 data centers to deliver good uptime and speed to the hosted websites. Equipped with Dell servers, Cisco networks, uninterrupted power supply, 20 gigabits of connectivity, and a BGP route optimizer, both of the data centers are guaranteed to be powerful.
For after-sale service and technical support, WebHostingHub has a well-trained US based support team consisting of hundreds of professionals with wide knowledge in web hosting and open source applications. The team is available at all times via live chat, phone, and email.
According to the customer review statistics, 97.9% of WebHostingHub customers are satisfied with the overall hosting service; 96.6% speak highly of the performance; 96.2% have a happy experience with the control panel; and 97.0% have gained satisfactory technical support.
For detailed information on WebHostingHub discounts and the service quality, read this review page.
About WebHostingBing.com
Founded by Susan Rosie, an expert devoted to web hosting review and rating since 2006, WebHostingBing.com is a professional site that presents independent reviews with details to help individuals and small businesses find the right service.