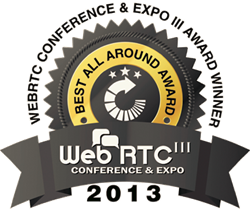 None were able to offer a complete platform in the same way as Requestec.
London, UK (PRWEB UK) 30 December 2013
Demoing their new WebRTC powered online meeting room, Requestec were able to show how no-download, browser-based communications are starting to change the world of consulting, education and customer service. By adding collaboration tools to their underlying video conferencing platform, such as file and screen-sharing, PowerPoint presenting and a feature-rich whiteboard, together with analogous apps for iOS and Android, Requestec discussed a number of use cases where their technology has been deployed during 2013.
With doubts over whether Microsoft and Apple will ever join the WebRTC movement being pushed forwards by Google and Mozilla, Requestec have made their online meeting room available in Microsoft's Internet Explorer and Apple's Safari browsers by detecting the browser type and replacing the WebRTC client used in Chrome, Firefox and Opera with one built in Adobe Flash. In so doing, Requestec enables its customers to reach all internet users regardless of the browser being used and without the need for additional software or plug-ins; crucial in achieving mass-market take-up.
By developing a zero footprint, in-browser communication interface, Requestec services can be deployed and maintained centrally, reducing the burden associated with having to support and maintain locally installed plug-ins and applications. Being web based also means that Requestec's online meeting room can be incorporated within existing web sites, applications and work flows.
Additionally, Requestec talked about their ability to deliver services regardless of bandwidth constraints, citing work currently being carried out in Asia on behalf of a global language school. By having developed the ability to mix the open-source Opus audio codec, Requestec are able to deliver super wideband audio at 48kHz in a single 40kbps stream to each meeting participant, thus providing the best possible experience even in low bandwidth environments.
Providing examples which included an innovative online training platform developed on behalf of Medtronic Diabetes that allows patients to get live coaching on how to use their recently delivered medical device, plus a live video and collaboration service on behalf of a leading European bank, Requestec demonstrated its ability to deliver compelling, online services that drive business efficiencies whilst at the same time bringing added convenience to users.
Whilst other companies tended to focus on providing APIs and SDKs to developers, or providing constituent parts of an overall solution such as video codecs or conferencing routers, none were able to offer a complete platform in the same way as Requestec, and for this reason the company was identified as providing the most complete solution in show.
About Requestec:
Through its Real-Time Communications Gateway, Zenon, and its turnkey video contact center solution, Saypage, Requestec embraces the open standards surrounding video calling from H.323 and SIP through to Flash, HTML5 and WebRTC. In addition to the platform itself, Requestec provides development, consultancy and integration services to financial institutions, healthcare providers, educators and telecoms operators around the globe ensuring the highest quality and most relevant solutions designed to stand the test of time.
About WebRTC:
WebRTC is a free, open project that enables web browsers with Real-Time Communications (RTC) capabilities via simple JavaScript APIs. The WebRTC API is now available in Google Chrome, Mozilla Firefox and Opera browsers.
About Adobe Flash:
Through its RTMFP protocol, Flash users can enjoy high quality UDP audio and video within Adobe's ubiquitous Flash Player in all web browsers.