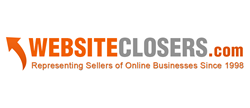 WebsiteClosers.com, a Business Brokerage based in Tampa, Florida, is focused on the sale of Technology Companies and Internet Businesses, especially eCommerce.
Tampa, Florida (PRWEB) November 11, 2014
WebsiteClosers.com, a Business Brokerage based in Tampa, Florida, is focused on the sale of Technology Companies and Internet Businesses, especially eCommerce. The internet brokerage has represented buyers and sellers of online businesses since 1998, and has quickly become the go-to business broker team for selling digital assets.
The Business Brokers on this professional team have savvy and experience, some other internet brokers oftentimes lack, and something we have found is of critical importance to internet entrepreneurs. Once of the things that makes Website Closers so interesting to Tech Companies is that the Founders of the company have purchased, sold, operated and built eCommerce and Technology companies from the ground up. They understand the nuances and ins-and-outs associated with how an Internet Company works. So for those looking at a potential exit, WebsiteClosers.com should be the brokerage of choice.
For those looking to sell a website, Tech Company, or other digital firm, and develop a successful exit strategy, the team offers four strategic points as advice:
Key Points to Sell Website Online

Will Seasonality Impact the Sale? Timing may be very important when selling a website, so it's best to determine a closing period and back plan accordingly. This is of critical importance and can make a very big difference in the purchase price of the business – that's why it's important to talk to us at the very earliest stage that you begin thinking about exit.
Document Company Processes: Even though it may be time-consuming, to sell a website or to sell an Amazon Company, you need to ensure that your processes are secure in an organized manual – and best case scenario would be to offload as many of those processes to employees. That will help a Buyer learn the ins and outs of the business, and therefore they will feel more comfortable with the purchase, especially if the Seller isn't the driver of most processes.
Be Aware of Your Financials: Don't just leave this aspect to the accountants and advisors. Do the leg work necessary to fully understand your company's financial trends, and where you can cut or make changes. This information will help us market the business and help you sell a website much faster.
Prepare to Deal: WebsiteClosers.com specializes in coaching sellers to prepare for the rigorous negotiations that often take place during these deals. This process can be hard for sellers, and that's why it's important to have WebsiteClosers.com handle this part of the process.
Ron Matheson, Senior Vice President with WebsiteClosers.com stated, "There are more strategic points that go into selling an online website, but the bottom line is, the more effort spent on strategy to prepare for the eventual sale, and fully understanding the factors that make a business sellable, the more attractive your business will be to prospective buyers."
About WebsiteClosers.com:
WebsiteClosers.com, a leading website business brokerage, is dedicated to representing those selling internet businesses, software and app companies and other technology assets. If one has a website business or other technology company, with an eye on developing an exit strategy, simply give them a call or send them an email to learn more. All messages are responded to same-day – no exceptions. They have experience buying, selling and owning a number of different kinds of Internet businesses, including e-commerce websites, software companies, sell Amazon Company, eBay businesses, and other digital assets. Because of this experience, they are in the best possible position (compared to other business brokers) to get a tech deal closed fast while maximizing the sales price.
Contact Information:
Website: http://www.websiteclosers.com
Phone: (800) 251.1559
Email: info(at)websiteclosers(dot)com