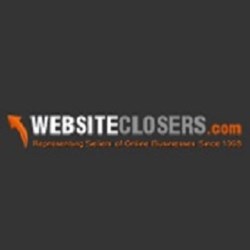 Charleston, SC (PRWEB) November 19, 2013
While the business is new, the model and approach used by WebSiteClosers.com to represent sellers of online businesses is tried and true. This business is the brainchild of serial entrepreneurs Jason Guerrettaz, CEO of a fast-growth eCommerce portfolio company, United Commerce Group, and Ron Matheson, a business broker with over 15 years of experience buying and selling his own companies, and representing sellers in a multitude of businesses acquisitions, particularly in the online sector. WebsiteClosers.com was launched to fulfill a need in the marketplace where traditional brokerages and M&A firms simply do not have the requisite skills necessary to represent entrepreneurs that have built a business in the digital space. These digital assets could be in the form of an eCommerce solution, an Amazon business, an eBay store, a software or application, or a mix of each. Considering all the situations, WebsiteClosers.com has launched its service of professional sale side brokerage for digital assets.
Explaining the brokerage services in detail was its spokesperson, Mr. Jason Guerrettaz, Executive Director, who highlighted the importance of hiring brokers in digital asset transactions. He said, "Selling a website business has always been a frustrating job for owners – especially when they follow a 'Do-It-Yourself' approach. The process of engaging potential buyers by themselves originate from a sense of making more profit in the deal, due to which sellers try to avoid introducing internet business brokers into the transaction. In other words, if an entrepreneur has built her online business from scratch, she likely feels as though she knows the most about that business and can best represent it to others. This is true when using a traditional M&A firm, but if WebsiteClosers.com represents a digital company, with that comes the know-how and experience necessary to both represent the asset correctly to potential suiters and to ensure the best possible opportunities are explored for business financing – something often overlooked in online business transactions."
He added, "Sellers often do not fully understand just how complex a task it is to sell an online asset. Imagine the frustrating mechanism of arranging and completing documents, setting business appraisals, advertising and promoting the transaction, impressing buyers, performing due diligence, negotiating prices, and a long list of other procedures necessary for a company to be properly sold on the marketplace at the correct valuation. Our brokerage was built to do 2 things at a level far in excess of others in the marketplace: to represent online sellers of their businesses by understanding the inner workings of their companies through pragmatic experience, and to allow those sellers watch as our brokerage finds the right buyer, the right financing vehicle, and most importantly, the right strike price."
WebsiteClosers.com will be a great benefit to its clients because the knowledge and experience necessary to buy or sell sites is a niche play that needs to be handled by those that know how websites and Amazon companies work. The brokerage will be dedicated to its Clients to ensure it generates acceptable buyers and helps to ensure the transaction is properly financed. The brokerage has a long network of financial representatives, especially in the SBA space, to help finance a deal. This, along with the knowledge necessary to traverse the SBA maze, is a value very few other brokerages can offer and execute – especially with an Internet company.
About the Company:
WebsiteClosers.com was created to fulfill a need in the marketplace for Sellers of Online Businesses to be well represented by a brokerage whose owners currently own and operate a number of businesses, including eCommerce and Amazon businesses, by a firm that has already closed over $30 Million in business transactions.
For more information, please visit http://www.websiteclosers.com
Address: 16057 Tampa Palms Blvd., W # 206, Tampa FL 33647