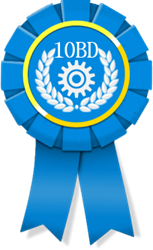 NYC, New York (PRWEB) June 10, 2014
Business owners looking to broaden their online presence should consider custom web development. Custom web design is useful for companies looking to engage, excite, and interact with their consumers. Web design firms also help their clients with things like graphic design, search engine optimization, online marketing, and social media consulting. The following agencies have been awarded by 10 Best Design as the top custom website design companies in the United States.
Located in New York City, Blue Fountain Media is one of the best web design firms currently operating on American soil. Blue Fountain is a Google Partner and was ranked as a top graphic design by the IMA. The company offers a wide range of design services to clients, including media consulting, creative design, online marketing, and website development. Blue Fountain Media's commitment to creating comprehensive solutions is one of the reasons the firm has worked with world-famous companies like AT&T, NASA, Canon, the NFL, HarperCollins, Elizabeth Arden, and P & G.
Another highly rated New York-based web design firm is Big Drop Inc. This agency specializes in branding, graphic design, and web development. In the past, the company has collaborated with the AFCC, Premier Data World, Consumer Debt Law, and Dollpremier Club. What makes Big Drop Inc. unique among design companies is that the firm has the ability to enhance a client's webpage from both an aesthetic standpoint, as well as assist business owners with various SEO-related concerns.
Forix Web Design is a Portland, Oregon-based web development firm famous for its award-winning website designs, innovative smartphone applications, and eye-catching e-commerce solutions. Forix currently staffs over 60 web professionals, which is part of the reason why the Oregon-based creative agency offers turnaround times that are 31.3% faster than their competitors. The company's commitment to both prompt service and quality design explains why they have worked with established clients like Northwest Natural, Trunk Monkey, Tedx, Asics, Skora, and the US Department of Energy.
CliKZY Creative, which is located in Washington DC, uses in-depth case studies to help their clients find the most effective web development strategies and optimization plans. The agency creates anything from content management system platforms to WordPress blogs for their customers. CliKZY has helped everyone from non-profit organizations to natural energy companies in the past.