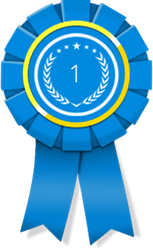 San Francisco, California (PRWEB) May 12, 2014
10 Best Design (10BD) is one of the top awards organizations for the web design industry. The 10BD platform brings together the great website design companies creating a ranking of the top service providers. Their 250,000 visitors per year reference the best firms on the awards list for web, graphic, architectural and product design services. These are the top six Web Design Companies listed on the 2014 list.
The #1 website design company on the list is Blue Fountain Media. They are driven by modern, innovative and responsive web design and offer a wide range of web development solutions for many types of devices. They are based in New York, New York.
The #2 firm on the list is Big Drop Inc. Based in New York, New York, Big Drop brings out the elegance and beauty of a client's online brand. They provide one-on-one attention to each phase of the development process.
The #3 firm on the list is Washington D.C.'s CliKZY Creative. This is a versatile firm which helps clients establish an online look that is fun, chic or elegant. They specialize in everything including graphic design, content management and web design.
The #4 firm on the list is Forix Web Design. Based in Portland, Oregon, this firm meet's all of its client's Internet needs such as social media, SEO, content strategy, e-commerce, website design, mobile application development and digital marketing.
The #5 firm on the list is The Creative Momentum in Atlanta, Georgia. Building websites that are interactive, responsive, attractive and easy to navigate, this firm is a pioneer.
The #6 firm on the list is Inflexion Interactive based in Hoboken, New Jersey. This firm uses the latest marketing trends and has provided services for Rutgers University, the Jersey City sportswear and Sabra Hummus.
The #7 firm on the list is Dotcomweavers in Paramus, New Jersey. Their talented staff utilize Web 2.0 technology and interactive widgets to produce aesthetic customized websites.
Visit 10 Best Design for the entire list of the 10 firms. 10 Best Design is the #1 web design awards, reviews and ranking organization on the Internet. Through the use of an analytic review algorithm, the best web designs are determined by online and client research, SEO rankings, traffic and other quantitative and qualitative points. The website is the top source for the Best Website Design.