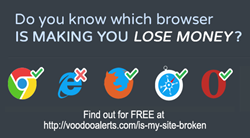 Is My Site Broken? from Voodoo Alerts is much more than a simple website check tool, it is a free and powerful website health evaluation that can automatically determine the most common problems
Indianapolis, IN (PRWEB) August 13, 2014
With the landscape of the internet changing daily, most companies have no idea which browsers, operating systems, or even miscoded website applications are costing them money and preventing a seamless end user experience, costing unknown amounts of sales revenue and poor user feedback. A recent delve by Voodoo Alerts into website functionality revealed that an estimated 87 percent of all websites, are in fact, broken in some way. These broken features can be a key ingredient in lost revenue, poor user feedback, and even result in company closure due to failure to gain space in the market. Reports indicate that, in America alone, consumers spent over $256 billion online in 2012.
With this kind of money floating around cyberspace, common errors amount to more than just an inconvenience to users, they also amount to huge sums of lost revenue for companies as well as condemnation in the public forum. As recently as 2011, one of the largest corporations in the world, Bank of America, experienced massive online service outages, resulting in over 20 million customers affected, millions of dollars in lost revenue, and last but not least, extreme public outrage. While Bank of America is indeed an extraordinary example of what can happen when websites break, it can be seen as a parable for smaller companies with an established, or even emerging, online presence. The overwhelming sentiment among internet users is that if a website does not function optimally, they will look elsewhere.
If 87 percent of websites are broken, why isn't anyone fixing them?
The problem with highly advanced analytics tools, like Google Analytics, is that these complicated website check tools require an extremely knowledgeable and dedicated professional to decipher results. Often, even the most advanced user can become overwhelmed by the sheer complexity of website check tools.
In recognizing the anguish often associated with using complicated website check tools, Voodoo Alerts has released "Is My Site Broken?", a completely free and extremely simple online tool capable of performing a quick and automatic website health check. Not only will Is My Site Broken? quickly and accurately analyze a website's performance; the all-in-one application will provide clear concise solutions to restore optimal functionality and website health, all in one easy to understand platform. Is My Site Broken? Automatically acquires and analyzes the most important Google metrics, tests site functionality across all browsers and platforms, analyzes user engagement rates, and much more, before delivering an individually tailored website health report, detailing possible problem areas and possible solutions.

For a limited time, Voodoo Alerts is providing Is My Site Broken? completely free of charge for interested clients.
In the process of performing a free website health check, Is My Site Broken? will provide clients with a complete synopsis of end user interaction, including type of browser used and related statistics for each. In an effort to take the guesswork out of Google Analytics,
Is My Site Broken? will check websites for errors and return a website grade in the following four categories:

Page Speed
Bounce Rate
End User Engagement Rate
Exit Rate
Is My Site Broken? from Voodoo Alerts is much more than a simple website check tool, it is a free and powerful website health evaluation that can automatically determine the most common problems like bottlenecks, page load time, page fetch time, and other website health problems, as well as major problems that cost e-commerce sites billions annually. This powerful Real User Monitoring application can even alert its user to problems experienced depending on every major web browser on the market, instantly, allowing quick resolution to any issue, and ultimately increasing revenue for the website owner. Is My Site Broken? can help optimize any business' website to ensure that its customers can have the best user experience possible. Having a responsive, engaging, and above all, error free website that users enjoy visiting, is the best way to make more sales, retain customers, and increase revenue.