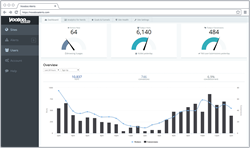 Our company offers customized alerts with detailed notifications, informing the user of everything they need to root out the problem quickly, not simply root around until they stumble upon something broken
New York, NY (PRWEB) November 18, 2014
The ability to grow with a client is one of the hallmarks of a great business. The inability to grow at an equal pace of the clients served by a company can lead to enormous constraints on business growth for both parties. It is in this belief that Voodoo Alerts announces new Enterprise Level website monitoring services, fully scalable to handle the largest clients with the highest amount of website traffic and monitoring needs. The Enterprise Edition of this powerful website protection software truly offers a complete website monitoring solution for the largest companies in the world.
The new Voodoo Alerts Enterprise level website monitoring service package allows for unlimited users and logins, and website monitoring and conversion tracking for unlimited page-views and across an unlimited amount of domains.
Also included in this scalable website monitoring system in an under 8 hour response time to questions or support claims, unlimited email support and phone support and an around the clock, dedicated support agent to personally assist in all areas of the Voodoo Alerts system.
Finally, in order to produce the highest level of service for large clients, the new Enterprise website monitoring package from Voodoo Alerts offers unlimited automated alerts, informing tech teams the moment any conversion or site friction is located, unlimited server and SSL cert monitoring, checking page uptime up to once per minute and sending out custom alerts when website outage is suspected, custom email and SMS notifications, completely adjustable to the client's specifications, unlimited custom alerts, allowing clients to design their own alerting triggers and assign custom parameters to each alert, and an on-page customizable analytics widget, allowing complete control of form and function.
Why Choose Voodoo Alerts?
While testing various lead generation funnels, one may find it difficult to accurately determine which are most successful, especially for a website that generates a high volume of traffic. It can be hard to get a grasp on which funnels are working correctly, which are generating leads or sales, and which are broken or underperforming. While Google Analytics does provide insight, it can be challenging to create and monitor customized goals. One of the most frustrating actualities is that in order to keep a watchful eye on conversions and goals, one must continually be logged in to Google Analytics, as the software really contains no efficient alerting system.
As the market continues to move at light speed, the necessity of timely conversion alerting becomes ever more apparent. In this regard, Voodoo Alerts created a new Enterprise edition for large scale website monitoring. Now, even the largest websites can receive accurate and descriptive conversion tracking with customized alerts, designed to aid marketers in tracking lead and sales funnels and alerting the user when funnels are underperforming. This timely alerting function allows funnels to be tested more rapidly, and replaced more judiciously if testing reveals inefficiency, keeping them ahead of the curve.
Voodoo Alerts offers much more value with scalable packages, offering unlimited website uptime checks and SSL cert checks, but also go above and beyond standard website ping services to provide much more for value for the client. Jon Corell, Founder and CEO of the company relays this idea, stating that "If customers are lucky enough to get alerting capability from other conversion monitoring services, those alerts are extremely vague and don't offer any insight into the problem. They simply say 'hey, your site is down, now go find out why'. Our company offers customized alerts with detailed notifications, informing the user of everything they need to root out the problem quickly, not simply root around until they stumble upon something broken."
The Voodoo Alerts Enterprise website monitoring package consists of the most powerful analytics and conversion tracking tools available on the market today. The user interface is easy to use, goals and funnels are easy to set up, and tracking begins almost instantly, providing piece of mind to large website teams feeling overwhelmed by the sheer volume of high traffic websites. Each tool is intuitively designed to offer ease of creation and use. But don't confuse ease with simplicity. The Voodoo Alerts website monitoring and alerting system is designed to be simple to use, yet extremely powerful, with all the difficult work done by the system itself, freeing up tech team time, delivering more insightful trends upon which to base future marketing campaigns, and most importantly, giving large website operators the peace of mind to sleep at night, safe in the knowledge that if something does happen, they will know immediately.
To try Voodoo Alerts for free for 30 days, visit the official website here.
Voodoo Alerts Contact Info:
San Diego, CA
(858) 569-4200
Info@VoodooAlerts.com
http://www.VoodooAlerts.com
Twitter: VoodooAlerts
Facebook: Voodoo-Alerts
Sign up for the VA Newsletter: HERE