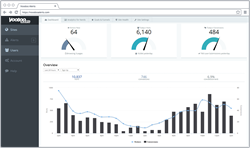 We know how well Voodoo Alerts works, because we've been using it ourselves for years; helping our Conversion Voodoo clients drastically improve their website's functionality, and make more money.
Miami, FL (PRWEB) November 14, 2014
Designing and maintaining a website involves countless decisions to be made, usually revolving around the central question: Form or function? In order to operate a successful website, developers must decide whether to create a website that caters to the majority of users who are not using the newest technology to access the site, and the tech-savvy visitors who use the newest technology to access the web and expect a fantastic experience from every website.
Proper website monitoring and analytics are not only imperative to running a successful ecommerce site, but can also be the difference between having website errors which cause a decrease in conversions, and actually finding the roots of these errors. With proper analytics, companies can more easily identify broken sectors, poor functioning funnels, and disparities in conversion rates between browsers, operating systems, and browser versions.
It is in this vein that Voodoo Alerts releases its latest case study, illustrating the method and result of a client's successful use of the company's powerful website monitoring software to enable the client to quickly identify and correct a simple third-party update which caused a site incompatibility, resulting in a 12% drop in website conversions.
With the Voodoo Alerts website monitoring service, clients are able to operate great analytics campaigns, drawing accurate inferences from data presented. On this particular occasion, Voodoo Alerts made drawing an inference from the data extremely simple by including detailed information, graphic models reflecting data and affected sectors, and unique notifications that initially identified a break in the website.
The client first became aware of the problem via a customized notification. The service sent out an error notification to the client, informing them of a drastic drop in conversions from visitors using the Internet Explorer 7 browser. With the patented Voodoo Alerts Bloodhound analytics, and effective and insightful notifications, the client was able to not only locate the cause of this error, but also fix it quickly before it became a major source of lost revenue.
With detailed graphs included in the alert, the client can easily see the difference between the sectors on their website and easily identify sectors that have stopped converting due to error. This client's funnels were converting at an average of approximately 11.5 percent overall, while Internet Explorer 7 traffic dropped to a 1.3 percent conversion rate. Disparities like these or what triggers the alerting system to notify the clients, saving time and money.
President and Founder of Voodoo Alerts, Jon Correll adds that "We know how well Voodoo Alerts works, because we've been using it ourselves for years; helping our Conversion Voodoo clients drastically improve their website's functionality, and make more money. It worked so well for us, we decided to share the wealth, quite literally. Voodoo Alerts will allow you to sleep at night, secure in the fact that we've got your back, that your site is functioning optimally, and if anything goes wrong, your web team is on it in a flash."
Simply add Voodoo Alerts javascript code to any website, set up custom conversion goals and add customized alerts, and the website monitoring service takes care of the rest. An automated system actively monitors the most important facets of website performance, alerting the user whenever their website is failing to convert. This innovative website monitoring system automatically notifies clients if anything on their website malfunctions and provides every detail from browser, to operating system, device, and much more, so clients can fix errors as fast as they happen.
Voodoo Alerts Contact Info:
San Diego, CA
(858) 569-4200
Info(at)VoodooAlerts(dot)com
Twitter: VoodooAlerts
Facebook: Voodoo-Alerts
Sign up for the VA Newsletter: here